Sep 27, 2021
Your Race…Your Pace
Your Race, Your Pace. It's crazy because I have heard this term so many times before while I was racing or in the process of training for a race. However, this statement has such a different meaning now.  I not only equate this to my running but to my life as well. As we all know life is simply crazy right now with the COVID 19 and Delta Variance and the threat of things shutting back down again. It has everyone in such an uproar and has some of us questioning whether or not things will ever be the same.
Sometimes training for a race can feel like that. You have some days where you feel spot on where other days it seems like a hurricane just comes through and turns your life upside down. Believe me, I know that feeling all too well.  About two years ago I suffered an injury that left me feeling like wow the thing that I love so much I may never do again. I struggled with that so much because during the time that I was suffering from that injury I was also going through so many transitions in my life. It left me feeling like my life was a mess. It seemed to feel as if I had no control over my life; that sounds all too familiar to what many of you are experiencing right now. But what I later realized is what seemed like a mess was my growth. It was growth that was happening, and my success was brewing.
I have learned sometimes we have to experience some things in life to truly understand and see where our next steps should go, it also allows us to see the growth that is happening. So, I took the time, I nurtured not only my injury, but myself, my soul, my life, my family. It wasn't easy because I felt incomplete, I felt like I could do nothing right. In my head I felt like a mess.
And then the other day it happened, I realized during my 10-mile run that 2 years ago I was in a boot trying to figure out my life, my direction. Over the past two years I have not only grown through my injury but also in my life. So, My race, my pace came to me in my run and help me to realize that the race is not only a fitness aspiration but life is a race. However, I needed to conquer my life at my own pace. I needed to go through some things, experience things, grow through some things to truly conquer my race. My race isn't over its still going. I had to learn that I can't go at someone else pace and do things the way others are doing. I needed to go at my own pace. I had to experience what life has to offer me. So, whether you go fast or slow go at your own pace because this my friend is Your RACE, Your PACE.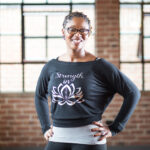 By: Felicia. R. Hall @feliciarhall
Felicia is an educator and motivator at heart. Felicia is a Certified Athletic Trainer, Corrective Exercise Specialist, Run & Fitness Coach, RYT 200 Yoga Instructor, Educator and a doctoral candidate. She is a small-town girl who loves running, nature and helping others become the best version of themselves.