May 31, 2021
You Are What You Eat…
You are what you eat. Have truer words been spoken? We often hear losing weight or maintaining a healthy lifestyle is 20 percent exercise, but 80 percent diet (what we habitually eat on a daily basis). Whatever the exact ratio of sustenance to exercise, one thing is for sure—what we ingest is tied to so many areas of our lives and health (not just the number on the scale), from the energy we have to show up for our families and the focus we need to kill it at our careers to managing our mental health and minimizing our risks of chronic diseases, such as diabetes, high blood pressure and even cancer. And snacking, particularly what we choose to snack on, can be the impetus for or the instigator that prevents us from achieving our health and weight goals.
"There is no one right diet for everyone. You have to find what foods give you life and what foods take away life," says Nurse Practitioner and Wellness Coach Sherry R. Cameron. Through our personal experiences with food, "We know certain foods make us feel good, and then there are foods that may taste really good but don't make us feel good and are not good for us."

Snacking sometimes seems like a bad word due to the images it evokes of sugar-loaded, salt-laden or fat-filled products. But, if you're feeling guilty about grabbing a snack in between meals, don't. Snacking has many benefits, including providing you with that much needed physical or mental pick-me-up in the middle of the day, replenishing nutrients after a workout and combating hunger that can keep you from overeating at dinner.
Again, there is no one size fits all approach when it comes to our daily nourishment, but something we all can do is control what we consume. Go for choices that are rich in carbs like fruit or whole grains and pair with nuts or other protein-packed picks. Also, knowing yourself and how you approach snacking is key, says Cameron. Figure out what triggers certain cravings, such as fries or fudge so you can preempt. Also assess whether you need to take noshes with you as you head out the door to avoid reaching for less than desirable alternatives due to temptation or time constraints.

If you're looking for the ideal option, Cameron shared one of her favorite go-to's, the No-Bake Superfood Energy Bars (recipe below) by Running On Real Food which are powered with energy, immune system and mood boosting ingredients, such as essential fatty acids, proteins and antioxidants. She recommends this recipe because it can be tailored to your palate preferences by mixing or substituting the types of nuts and seeds used, can be quickly whipped up while meal prepping and is delicious. They will stay fresh in the fridge for 2 weeks and in the freezer for up to 3 months. She also opts to top the bars with coconut instead of chocolate (pictured).

We snack for nutriment, but that doesn't mean snacking has to be boring or unpleasant. Focus on the things you like, not punish yourself with the things you don't. Life is not about deprivation, it's about decisions—choose wisely.

No-Bake Superfood Energy Bars
Ingredients:
1 cup Raw almonds

2 tbsp Chia seeds

3 tbsp Hemp seeds

2 tbsp Ground flax seeds

3 tbsp Raw pumpkin seeds

1 tbsp Raw cacao powder or cocoa powder

2 tsp Cinnamon

1/4 tsp Sea salt

1-1/2 cups Tightly packed, soft pitted dates

1/2 cup Dairy-free chocolate chips or chopped dark chocolate
Instructions:
Place the almonds in a food processor and blend into a coarse, grainy flour 

Mix everything (except the dates and chocolate) until broken down into a grainy consistency

Add dates and process until it forms a thick, sticky dough 

Line square baking pan (approx. 7×7") with two strips of parchment paper 

Tightly press the dough into the pan 

Melt chocolate in microwave in 15-second increments, stirring often

Evenly spread chocolate over bars 

Place in the fridge until chocolate has hardened, about 20-30 minutes

Carefully lift the bars out of pan and let sit at room temperature 5-10 minutes to allow the chocolate to soften slightly

Slice into 8 or 16 bars 

Store in a sealed container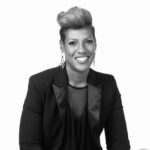 By: Joy Harrell @joyrunsrealestate
Joy Harrell is a licensed real estate agent and co-owner of The Sift Sisters bakery based in Houston, Texas. She is a native Houstonian and graduate of the University of Houston—go Coogs! When she is not helping people buy, sell or invest in real estate, she can be found hanging or traveling with her hubby, running or biking the streets and trails in and around Houston, mentoring girls or testing new food and cocktail recipes.