Dec 14, 2021
Why I'm Thankful
I love Thanksgiving. It's not so much the holiday itself that I cherish, but the fact that it ushers in a season of celebration and reflection at the end of the year. The spirit of that late November holiday extends into Christmas, Hanukkah, Kwanzaa and many other religious and cultural celebrations, giving us all time to rest and relax with loved ones.
I had much to be thankful for in 2021. There were some personal triumphs and some milestones celebrated with family and friends. Fitness-wise, I accomplished a lot, including trying some new things I never would have considered in past years.
In honor of the holiday season and an approaching new year, here's a list of running-related things I'm thankful for in 2021.
-Staying healthy during a pandemic, and keeping my family as safe and healthy as possible as well
-Running at lunchtime thanks to being able to work from home for much of the year
-Live races after a yearlong hiatus!
-Discovering that even though I live in an urban area, a fantastic network of hiking and running trails is just a 10-minute drive away
-Challenging myself to run one of those trails in a nighttime 10K race
-The natural butt lift that comes from running so many hills and trails. (Thanks Southwest Ohio geography!)
-Committing to training for my first half-marathon in 12 years, complete with consistent weekend long runs
-Completing that half marathon on Halloween
-Getting back to the half-marathon/marathon life after two pregnancies, two children and a few more pounds than I had a decade ago
-Recording a 5K time at 43 equal to my average 5K times at 33
-Adding more cool medals and race T-shirts to my collection
-Discovering that spending money on running shoes, hydration vests, race fees and gear was a great investment in my health
-The stronger mind-body connections I've developed thanks to running outdoors
-The chance to do it all again – plus more – next year.
As grateful as I am for all of the above, and I'm sure there's a lot I've forgotten, I'm most thankful for the new friendships made through running and the strong relationships I've developed with so many other wonderful people through the running community. I always knew that having running buddies gives you a level of accountability you might not have when you're trying to run by yourself, but it's amazing to watch your running partners transform into good friends. A morning, afternoon or evening run now becomes a chance to catch up, blow off steam, celebrate, commiserate and just bond.
I'm giving thanks to my running friends, to the ladies who keep inspiring me to do better and be better. And I'm not just talking about running faster 5K times or longer distances either.
Happy holidays and happy new year.
What were you thankful for this year?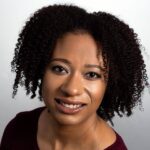 By Shannon Shelton Miller /Twitter: ShannonSMWrites, Instagram: shannon.shelton1
Shannon Shelton Miller is a longtime writer and journalist who enjoys writing about sports, fitness, health, beauty, and parenting. She has been running for 27 years, starting from joining her high school cross country team. She has run a marathon, two half marathons, and countless 5K and 10K races.