Sep 21, 2021
What Tokyo 2020 Taught Us: An Olympian's Mental Health Matters
If you're anything like me, you were all-in watching the Tokyo 2020 Olympic Games, especially when it came to events featuring our fellow black and brown sisters. Athletes train their whole lives, with hopes and dreams to become part of Team USA.
With a global pandemic as a backdrop, the Games looked different this year. Strict protocols were in place. There was no family, no spectators allowed at the Games. Athletes had to wear masks and socially distance when not competing. Nevertheless, after a year-long delay, the world was excited for the Games to begin. But, if there's one overarching theme from this year's Games, it's this: "Mental Health Matters, for Olympians, Too."
In May, in honor of Mental Health Awareness Month, I wrote an article, "Mental Health Disparities in the Black and Brown Communities," for the BGR! Blog. If you haven't read it, I urge you to take the three minutes it takes to read the article in its entirety to learn about how mental health affects BIPOC.
Collectively, our mouths hung open in shock and disbelief when we learned Simone Biles pulled out of that first team finals event. Initially, the reason why remained a mystery. Was she injured? Had she tested positive for COVID-19? No, she wasn't hurt, and she had not tested positive for the coronavirus. Simone Biles withdrew from the team and all-around finals to focus on her mental health.
Biles, the GOAT, the most decorated active gymnast in the world and survivor of sexual abuse by former USA Gymnastics coach Larry Nassar, prioritized her mental health over people-pleasing. The nerve. The gall.
On withdrawing at the Olympics, Biles said, "We also have to focus on ourselves because at the end of the day, we're human too. So, we have to protect our mind and our body rather than just go out there and do what the world wants us to do."
Raven Saunders, African American Olympian shot putter and University of Mississippi senior, earned a silver medal in Tokyo. It's her second appearance at the Olympic Games. She, too, has battled with mental health issues. In a recent interview with TIME, Raven recounts how she had to pick up her studies just days after competing in Rio in 2016. She told the publication she cried a lot and would go into isolation. She had suicidal ideation and thought about ways to make it happen. But, unfortunately, the thoughts wouldn't go away. Finally, at the suggestion of her therapist, she spent two months in a mental health facility in early 2018.
These are just two stories. The lives of these athletes are always under a microscope. These women are under insurmountable pressure to perform every day, not just at the Olympics, and it can be overwhelming at times. Yes, they're Olympians, but no, they are not immune to mental health struggles.
And neither are you.
The National Suicide Prevention Lifeline is available 24/7. You don't have to be suicidal to call. Reasons to call include substance abuse, economic worries, relationships, sexual identity, getting over abuse, depression, mental, physical illness, or loneliness. If you're experiencing any of these, please call 800-273-8255. Mental health matters for Olympic athletes, and it matters for you, too.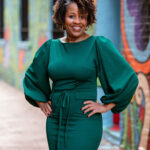 By: Danielle Barnes – @dannibsays (IG) @dannib413 (Twitter)
Danielle Barnes is a freelance writer based in Montclair, NJ. She earned a Bachelor of Arts degree in Public Relations from Wayne State University. Her superpower is her ability to captivate audiences with her words whether it's in person or on paper. Danielle enjoys devouring a good book, volunteering for causes she's passionate about, staying active, and traveling the globe to see the world in all its glory.