Aug 9, 2023
Welcome to BGR, Louisville!
Des Etheridge and Dania Britt had the vision. They both enjoyed running and thought it would be a great idea to bring Black women in their hometown together for running and sisterhood.
"We knew each other before and had several conversations about wanting to get back in shape," Etheridge said. "We coincidentally had both known about Black Girls Run and put in applications to be a potential chapter within the group."
When Black Girls Run CEO Jay Ell Alexander held her next national Zoom call, Etheridge and Britt joked that they spammed the call, telling everyone listening to "Come to Louisville!"
It took about six or seven months to make their dream a reality, but on July 29, 2023, Black Girls Run came to Louisville.
Close to 100 women from multiple states registered to attend a Sweat With Your Sole On the Road event – the third of 2023 — that kicked off Louisville's arrival as the newest chapter of Black Girls Run. The Louisville group is also the first Black Girls Run chapter in Kentucky, and Etheridge and Britt are its first ambassadors.
As soon as I saw Louisville on the list of Sweat With Your Sole on the Road sites, I couldn't wait to go. Louisville is just 2 ½ hours from my home near Dayton, and not far from many other major cities with BGR chapters. That's why the event drew women from Cincinnati, Columbus, Nashville, Indianapolis, Richmond and more.
We all gathered at Fleet Feet Louisville for the party early Saturday morning, having a quick meet-and-greet before we hit the road for a fun run. Local DJ John Q was already getting his set started, and Panera contributed a fabulous spread of juice, coffee, bagels, and yogurt parfait. The champagne was also chilled and ready for some celebratory mimosas as soon as we got back.
The weather was blissfully pleasant for a Saturday morning in Kentucky in July, so it wasn't too hot for the 5K run (and a little extra for the more ambitious folks in the group). We collected our medals once we got back to the store, and then the party really got started.
We wobbled, we hustled, we line danced, we sang "Before I Let You Go," to the rooftops. We cheered when we won some sweet door prizes (new shoes, anyone?). It was a good thing the shopping center was still quiet before 10 a.m. because we were bringing down the house.
Throughout it all, the feeling of sisterhood was powerful. We all wanted to come down – or up or over – to Louisville to support the newest BGR members on their health and wellness journeys. As we prepared to leave, we invited our new Louisville sisters to come to Cincinnati for the Flying Pig and Queen Bee, or to Indianapolis for the Indy Monumental, among many other races in the locations represented. In turn, they told us to come back to run the Derby Festival marathon or half, and many of the other fun races Louisville has to offer.
We know we'll all meet again, on the road, somewhere, sometime.
"The kickoff was amazing," Etheridge said. "It was a reminder that I'm not alone on this journey. To see women of all ages that look like me running brings tears to my eyes. The best part was for sure having other cities come to support and give us advice. It definitely felt like a sisterhood."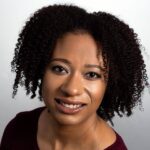 By Shannon Shelton Miller /Twitter: ShannonSMWrites, Instagram: shannon.shelton1
Shannon Shelton Miller is a longtime writer and journalist who enjoys writing about sports, fitness, health, beauty, and parenting. She has been running for 27 years, starting from joining her high school cross-country team. She has run a marathon, two half marathons, and countless 5K and 10K races.