Sep 30, 2021
Wash and Go Run, Part 2
In my last blog, I talked about relationship between hair and exercise for Black women, and how being forced to figure out my natural hair while training for a marathon in Florida led me to a love affair with the wash and go.
Spending time in natural hair groups and forums online showed me this wasn't the case for most. The wash and go (or a twist out) seems to be the style most want to master, but struggle with more than anything else.
That's why I talked to Camille Janae, a textured hair specialist and owner of Mahogany and Rose salon in Sacramento, California. A wash and go maestro, she offers tips on what to do – and perhaps more importantly, what not to do – to have a style that works just as well for your running routine as a night on the town. And forget about "wash days" – these tips turn your regimen into a wash hour.
Shampoo at least once weekly, condition, style: If you're looking for that miracle product to moisturize your hair, it's right there in your kitchen or bathroom. It's water. Shampooing removes product buildup that can coat (and dry out) your hair and raises the cuticle for your hair to accept moisture from conditioner. The more your hair is watered, the more hydrated it becomes, lessening tangles and making your wash experience easier. Those who exercise frequently (like us!) might want to wash more often.
"We're taught to run away from water and stay away from it as long as we can," Janae said. "So to have someone tell you, you can wash it as often as your scalp's telling you to, it's kind of like, 'oh, we're not supposed to do that. That's not for us.' It's really more of a mindset shift than anything."
To define your natural curl pattern, whatever that happens to be, apply gel to your soaking wet hair after shampooing and conditioning. Use a hooded dryer for best results – your wash and go should last longer than if you air dry. (I'm working on this!)
Avoid raw oils: Don't add raw oils or butters to your hair after washing and conditioning. This is the tip that often gets the most resistance when suggested, and Janae has experienced that frequently when she's mentioned it on social media.
"We have such a strong connection between our hair care practices and our culture, and how those traditional practices tie into how we identify as black women and black people," Janae said. "When someone is seen as attacking those practices, it's almost linked to attacking the culture as a whole."
The big question that always follows the "avoid raw oils" advice is something like, "But how will I moisturize my hair if I don't use oil?" Shampoo and conditioner are the answer. Raw oils and butters applied to the hair only serve to coat it, inhibiting the hair from taking in environmental moisture from the air. While locking moisture out is key to keeping a straightened style, that's not the case for your natural curls, which love to be watered.
Understanding this helped me realize almost 20 years later why frequent washing in Florida helped my hair thrive and look great in the humidity.
In addition, make sure your shampoos, conditioners and styling products don't have oils or butters in the top five ingredients. The oils and butters in that "styling cream" you're using is likely the reason your wash and go isn't lasting beyond a day.
Dump "hair typing": That 3C/4A/4C stuff? It doesn't matter to basic hair care and product selection. Porosity? That doesn't matter either. Shampooing, conditioning and styling with gel for a wash and go works for all hair types, and women with tighter coils shouldn't feel they need different products or heavier products for more "moisture." All wash and go's won't look the same because we all have different curl patterns, but one shouldn't assume only "certain types of hair" can wash and go.
"These practices are universal regardless of the size of the curl," Janae said. "Whether your curls are looser or tighter, the principles still apply."
Don't give up if you don't get your desired look on the first try – keep at it and watch your hair respond as you hydrate it more. Most importantly, have fun with your hair!
"There's this ingrained idea that our hair is difficult and that it's just unreasonable to even think that our hair care could be simple," Janae said. "For someone to come into the room and say, 'you're over-complicating it,' that's ruffled a lot of feathers. But it's all about a mindset shift."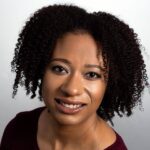 By Shannon Shelton Miller /Twitter: ShannonSMWrites, Instagram: shannon.shelton1
Shannon Shelton Miller is a longtime writer and journalist who enjoys writing about sports, fitness, health, beauty, and parenting. She has been running for 27 years, starting from joining her high school cross country team. She has run a marathon, two half marathons, and countless 5K and 10K races.