Aug 3, 2021
Travel Mode(ration)
We work so hard at cultivating our healthy lifestyles and summer bodies—from skipping dessert and happy hour to running extra miles when we really should be focused on other areas of our lives—so that we can feel and look our best in our warm-weather wardrobes, while attending summer's social events and while on vacation. But we don't fight cravings, sacrifice sleep and skip our allotted TV time to get in a workout only to undo the benefits when we go on that girls trip or romantic getaway, right? So how do we go about enjoying our vacations without destroying the gains from our mindful food choices and consistent fitness routines?
Hydrate
Water is your number one tool to staying healthy and hydrated during vacation. It will boost body and skin health, flush out toxins and alcohol, provide energy and replenish lost fluids due to spending extra time in the sun. Water is also a natural appetite suppressant and can keep you from overeating by helping you feel full faster and longer. So go ahead, drink your ounces in between partaking in adult beverages and to help bounce back from your daily vacay shenanigans.
Walk Everywhere
Resist the urge to hail a taxi or hire an Uber to take you around town or to your dinner reservations. Walking is not only a great way to explore but also a great way to get in some exercise and offset any extra calories you might consume. Discovering a new city on foot is one of my favorite things to do while traveling. It is an unrivaled way to just take your time and completely take in the sights and surroundings.
Get Some R&R
Vacations are a time for us to unwind and rejuvenate, not just celebrate. I make it a point to do just that during every vacation. Having recently traveled to Puerto Vallarta, Mexico, the hubby and I treated ourselves to a hydrotherapy session and a couple's massage. Hydrotherapy (or water cures) is an ideal way to relax and revitalize your mind and body using varying water temperatures and pressures. Other ways to relax can include hanging by (or in) the pool, taking an uncustomary nap or going for a hike.
Balance Your Meals
Indulging in the local cuisine is one of the best ways for me to experience a new city or country, as it allows me to learn more about the culture, customs and the people who live there. But don't be afraid to ask to have food prepared the way you prefer it. Smaller portions (focus on sampling, not feasting) and small customizations can also make a meal more healthy without sacrificing flavor and satisfaction, such as substituting grilled for fried or olive oil for butter or adding fresh veggies or fruit to your plate.
Vacations are all about enjoyment and experimenting. After all, we travel to see new places and to try new things. But that doesn't mean we can't keep our health, hard work and hydration top of mind. Staying true to our health even when we forgo our usual eating and exercise patterns while vacationing actually allows us to have a better vacation experience, not a diminished one. So enjoy!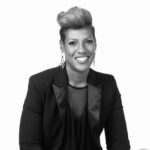 By: Joy Harrell @joyrunsrealestate
Joy Harrell is a licensed real estate agent and co-owner of The Sift Sisters bakery based in Houston, Texas. She is a native Houstonian and graduate of the University of Houston—go Coogs! When she is not helping people buy, sell or invest in real estate, she can be found hanging or traveling with her hubby, running or biking the streets and trails in and around Houston, mentoring girls or testing new food and cocktail recipes.