Apr 28, 2021
Up Your Run Game by Preventing Injuries
Pounding the pavement in pursuit of your next PR can cause unintended consequences. As we rack up the miles and strive to run faster and farther, we sometimes wreak havoc on our joints and muscles and may even cause an injury that will slow us down or sideline us all together. A good run game starts with preventing injuries with the right shoes, stretching and seeing your chiropractor (or doctor) at least once per year, says BGR! member, avid adventure runner and sports and wellness doctor, Dr. Alexia McClerkin, DC, RN.
Shoes
One of the biggest things you can do to prevent injuries is to make certain you have high-quality running shoes that are properly fitted to your unique feet. "Signs that you are running in the wrong type of shoes include pain in your hips or gluts," says Dr. McClerkin. "And, running shoes have an expiration date". You can track the number of miles you put on your shoes via most running apps to guarantee you replace them at the appropriate time—which is between 300 and 500 miles or about four to six months for someone who runs 20 miles per week.
Stretching
Thorough, intentional stretching warms up your muscles and prepares them for the miles ahead. Running without first warming up your muscles can result in a torn muscle or other serious injury. Coupled with stretching, proper running form is essential to ensuring you stay healthy and injury-free during your run journey. Dr. McClerkin recommends joining a running club or participating in one or two running clinics for educational purposes, "because bad form leads to bad injuries," she says.
See Your Chiropractor (or Doctor) Regularly
Seeing a medical professional at least once annually for a full check-up and work-up is vital to helping you reach your run goals. But, not all chiropractors are created equally. Seek out one that is also a runner because they will better understand what you may be experiencing and how to better treat you—instead of applying a one-size-fits-all approach.
So, what if you've already suffered an injury? Depending on its severity, you have to discern whether you just need to back off running for a while or if you need to see your doctor. The most common injuries Dr. McClerkin treat are knee, feet and back pain and shin splints. Most of which can be avoided with proper run shoes, proper stretching and proper run form.
When treating her patients, the first thing Dr. McClerkin does is a full assessment to determine the extent of the issue or injury. Each evaluation includes a deep tissue massage, stretching, gait observation and shoe examination. Courses of treatment may include cupping therapy (used to help with pain, toxin removal, inflammation, circulation, relaxation and well-being); dry-needling (an acupuncture needle therapy used to manipulate the muscles to break up any knots or scar tissue to improve range of motion and decrease pain); or therapeutic laser (used to treat those with muscle tears, fractures or general pain). So be sure to take your shoes and shorts along to your visits with your chiropractor (or doctor) to facilitate your quality of care.
Increasing your speed and stamina is not an overnight feat. But reaching your run goals rest on you being an educated runner and minimizing your risk of injury. So, remember the 3 S's: shoes, stretching and seeing your chiropractor (or doctor) regularly.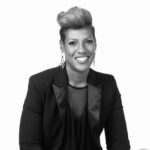 By: Joy Harrell @joyrunsrealestate
Joy Harrell is a licensed real estate agent and co-owner of The Sift Sisters bakery based in Houston, Texas. She is a native Houstonian and graduate of the University of Houston—go Coogs! When she is not helping people buy, sell or invest in real estate, she can be found hanging or traveling with her hubby, running or biking the streets and trails in and around Houston, mentoring girls or testing new food and cocktail recipes.