Apr 12, 2023
Underwear is Running Gear Too!
After finishing my first half-marathon in more than a decade, I was definitely sore. I ached everywhere, from my legs to my arms and abs.
I expected muscle soreness after running 13.1 miles on hilly roads. What I didn't expect, however, was the raw and chafed feeling along my panty line. With every step from the finish line to the recovery area and my hotel room, my poor skin felt downright miserable as it kept rubbing up against the fabric of my underwear.
No one had warned me about this.
Chafing from bras and panties is all too common on longer runs if you're not prepared. The fabric on your bra and underpants rub up against your skin no matter how much you move, but the longer you're out running, the more sweat and salt your body produces. Combine that with the constant rubbing of the fabric against the skin and you've got the perfect combination to make chafing happen.
Peeling off those sweaty clothes once I got back to my hotel helped a lot, as did a shower to get off all the salt and sweat. My skin remained raw for another day or two, despite applying products to help calm and soothe, and I vowed to be more prepared for my next long run.
Sports Bras
I'm planning to do an "ultra" soon (that's a race distance longer than the marathon), and everyone has told me to make sure my bra doesn't cause me pain during my eight-plus hours on the trail.
Finding the right size bra goes a long way toward preventing rubbing and chafing and you can get a fitting at your local running store. Experts also recommend you replace your sports bras annually, as the material tends to break down and provide less support after multiple wears and washes. I admit I'm guilty of holding onto my sports bras forever, but I probably should start replacing them.
One great recommendation I got from a helpful salesperson was to buy a balm like Body Glide to apply to the skin to prevent chafing that might occur where bra or underwear fabric rubs up against the skin.
(You can also apply the balm to parts of your skin that might rub together while you're running, like your thighs!)
Underpants
I knew about bra chafing, but bikini/brief rubbing was a new one to me. Some people might choose to forgo underpants altogether to prevent chafing, but if you want or need to have them, look for "running underwear" or "active underwear" that's less likely to irritate your skin.
The difference is the fabric. While cotton underwear is comfortable for everyday wear, the fact that it holds moisture makes it a perfect breeding ground for bacteria, not to mention chafing. It can also feel uncomfortable to run with a wet bottom for hours.
Active underwear is often seamless (less opportunity for rubbing/chafing) and is made with wool or a "technical" fabric that wicks away moisture.
The "bottom" line
Tired, sore legs are given after a long run. The last thing you need is raw skin that just adds to your aches and pains. Next time you make a big gear purchase, make sure underwear is on your list.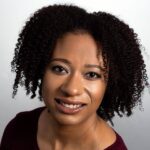 By Shannon Shelton Miller /Twitter: ShannonSMWrites, Instagram: shannon.shelton1
Shannon Shelton Miller is a longtime writer and journalist who enjoys writing about sports, fitness, health, beauty, and parenting. She has been running for 27 years, starting from joining her high school cross country team. She has run a marathon, two half marathons, and countless 5K and 10K races.