Aug 12, 2021
Training in the Heat
It's getting HOT OUT HERE!
I don't know about you, but it doesn't matter what time of the day that I go out for a run I am dripping within 5 minutes of the run.
Does anyone else feel that way?
The temperatures are blazing and it's so draining especially when you are trying to train.
It's important to be prepared for hot and humid weather while training. Here are 5 tips to help you train in the heat.
Stay hydrated
Now more than ever is the time to stay hydrated. Drink water not only on that day but drink throughout the week. Remember, if you're feeling thirsty then you are already experiencing dehydration. Make sure you're staying hydrated. A good rule of thumb is you want to drink about half of your body weight. So, someone who is 140 lbs. should be intaking 70 ounces of water.
Train either early hours or late hours
Be mindful of when you are training. Try to do your runs early in the morning before the sun comes up or before the heat begins to rise. In addition, train later in the evening when the sun goes down and the temperature is decreasing. Remember that your body increases temperature between 10-20 degrees from the original temperature. So if the temperature is 75 degrees outside your body will heat up to 85-90 degrees while running.
Wear light clothing
Wear light clothing and breathable clothing. Make sure you are wearing clothing that helps allow your body to breathe to help dissipate heat. The more you can dissipate heat and allow your body to breathe then the more that we'll be able to keep your body temperature down.
Lessen your exposure time
When temperature are high and humidity levels are higher lessening your amount of exposure time. The longer that your body is exposed to the heat and humid the more your body temperature will increase. Take a shorter run or change timing of the day to limit the amount of exposure to the sun, heat and humidity.
Listen to your BODY
One of the most important things that you can do for your body is to listen to your body. Our bodies are very smart and when something isn't right our body sends signals to us. If you are feeling lightheaded, nauseous or just not yourself. Listen and stop.
Training in the heat can be frustrating and can be life threatening if you are not careful. Apply these tips as you train during the summer. Your body will thank you for it later.
Happy Training!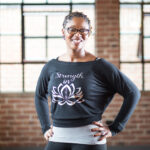 By: Felicia. R. Hall @feliciarhall
Felicia is an educator and motivator at heart. Felicia is a Certified Athletic Trainer, Corrective Exercise Specialist, Run & Fitness Coach, RYT 200 Yoga Instructor, Educator and a doctoral candidate. She is a small-town girl who loves running, nature and helping others become the best version of themselves.