Aug 19, 2021
To Spend or Not to Spend? That is The Question
Over the past year, I've shed a few pounds and several inches, too. Yay! As a result, I've had to buy a few new pairs of running tights. And, you can't have new running tights without new tops! But, after unpacking my new workout clothing, I realized I had nowhere to store my recent haul. All my dresser drawers were full. So, I had to go out and buy a whole new dresser.
Just this year, I've also bought new socks, underwear, headbands, gloves, buffs, a new visor, a handheld water bottle, a pair of non-slip, and sweat-resistant sunglasses. I've purchased hydration tablets, a box of vegan protein bars, cases of protein-packed, lactose-free chocolate milk, and a "runner's" cookbook. I've snagged so many other things I deemed necessary for any type of exertion. Stuff I can't even remember right now because all I hear is the sound of an old-school cash register, "Cha-ching!"
The spending spree didn't stop there. I also bought not one but two new pairs of running shoes, a new smartwatch, lacrosse balls for kneading out my achy muscles, and a knobby foot roller to stave off another bout with plantar fasciitis. Then, there are the bone conduction wireless headphones sitting in my cart right now. Like right now, right now. I don't even know what bone conduction is. According to the brand's website, "our bone conduction headphones offer unrivaled situation awareness and comfort." I'm notorious for losing things or putting things down and absentmindedly walking away. Likewise, I would lose my ear if it weren't attached to my head. I like that the headphones sit outside the ear, minimizing distraction, so I am sold.
I consider myself to be a minimalist, so I had to step back and say to myself, "What's happening here? Are we starting to have a problem?"
The answer is, "No, I am not." Since I use all these items and use them often, I cut myself some slack. I try not to buy on impulse; I research the product online, ask my seasoned running friends for recommendations, and read reviews before whipping out my credit card.
Running is a cheap sport. All you need is will and determination. Sure, some days, you may need a little extra push, like literally, someone needs to push you out of bed and out the door, but for the most part, all you need is you.
But, like any other activity, little expenses can add up, and you're wondering where all your money went. A recent survey reveals the average runner spends roughly $1000 per year on the sport. An interesting tidbit from the survey shows no matter the runner's skill level or how long they've been involved in the sport; they spend around the same amount.
According to the survey, women spend 21 percent more than men. Surprise! A runner's budget includes race fees, shoes, gear, tech, and coaching. Beginners, like me, spend much of their budget on apparel, while intermediate runners spend their money on shoes and races.
The key takeaway here? Running is the most accessible sport; almost anyone can do it, but it is not a zero-cost sport. Invest and spend wisely!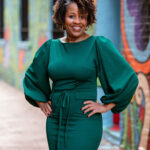 By: Danielle Barnes – @dannibsays (IG) @dannib413 (Twitter)
Danielle Barnes is a freelance writer based in Montclair, NJ. She earned a Bachelor of Arts degree in Public Relations from Wayne State University. Her superpower is her ability to captivate audiences with her words whether it's in person or on paper. Danielle enjoys devouring a good book, volunteering for causes she's passionate about, staying active, and traveling the globe to see the world in all its glory.