Jul 20, 2021
To Sock or Not to Sock?
Ever show up to a race and go to put on your run shoes only to discover you've left your socks at home. Do you run anyway? Of course, you do. Running is such an individualized sport that the decision to wear socks or to not wear socks—by choice or by circumstance—while pursuing the pavement is a personal one, and opinions on the case for or against differ greatly depending on who you ask. But not wearing socks while running can be a painful (and smelly) proposition. Here's why.
The Benefits of Wearing Socks While Running:
Absorb Moisture. The main reason to wear socks is to absorb moisture. Without socks as a barrier, all the sweat from your feet transfer to your running shoes causing them (and your feet) to stink, not to mention making them a breeding ground for bacteria growth. Wet feet can also leave you prone to infections, such as athlete's foot. Wearing socks help you maintain overall good foot health. Choose socks that are breathable and contain moisture wicking fibers that will keep your feet cool and dry. However, if you decide to run sans socks, put talcum powder in your shoes to stave off wetness while you run in order to combat odor, bacteria and other adverse situations.
Promote Comfort. Another benefit to wearing socks is that they add an extra layer of padding, which can help your feet remain comfortable during your distance, especially as fatigue sets in. Making your shoes as cushioned as possible can help mitigate discomfort and prevent blisters, as well as keep calluses from forming over time. Choose socks that are impact-resistance and durable. Make certain your socks fit well and are not too tight, but will also not slip into your shoes as you run. If you are team no-socks, alleviate skin irritation by protecting your toes, heels and other vulnerable areas from the perils of rubbing against your shoes by going down a shoe size to impede friction or applying Vaseline or body glide to your heels and top of your foot to create a buffer between your skin and your shoes.
Protect Against Plantar Fasciitis. We need not personally have endured plantar fasciitis to know that we never want to. If you have plantar fasciitis—one of the most common culprits of foot pain—the tissue along the arch of your foot (between your heel and your toes) has become inflamed, which can lead to soul searching pain. Causes can range from excessive training, long-distance running and standing for long periods on hard surfaces to walking barefoot, rapid weight gain, recent change in activity and wearing unsupportive or improperly fitted footwear. If you suffer from plantar fasciitis, enlisting compression socks promotes circulation for faster healing and provides additional heel and Achilles support. Wearing compression socks while you run or walk can also help prevent plantar fasciitis from occurring altogether.
The decision to don or forgo socks is an individual one. If you've prescribed to the idea that socks are an essential part of your running groove and gear, ensuring that you wear the right type, with the right fit can be as an important part in your running performance and ease of running as your choice in shoes as they hinder blisters, minimize bacteria growth and shield you from foot pain. Keep in mind, having healthy, pain-free feet is directly tied to the quality of our lives and overall health, and socks play a vital role in that.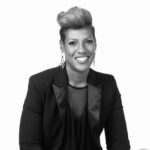 By: Joy Harrell @joyrunsrealestate
Joy Harrell is a licensed real estate agent and co-owner of The Sift Sisters bakery based in Houston, Texas. She is a native Houstonian and graduate of the University of Houston—go Coogs! When she is not helping people buy, sell or invest in real estate, she can be found hanging or traveling with her hubby, running or biking the streets and trails in and around Houston, mentoring girls or testing new food and cocktail recipes.