Nov 16, 2021
THE HOLI-YAYS ARE HERE! – HOW TO GIVE WHILE GIVING BACK
It doesn't matter whether you celebrate Christmas, Hannukah, Kwanzaa, or Three Kings Day; one thing's for sure, the holidays are here! I like to refer to this time of year as the holi-yays! "You get a holiday. You get a holiday!" (in my sing-song Oprah voice).
For me, there's something magical about shopping during the holiday season. But this year, I'm making a conscious effort to shop smart by shopping small, local, and minority-owned.
Small business owners love what they do and play an essential role in supporting their local communities. Many small businesses have struggled during the pandemic, and many did not make it.
So, as you start your holiday shopping, think about bringing some holiday joy to small, minority-owned businesses near you. Think about all the places you pass on your walks or runs. Is the small coffee shop where you dash into after your run locally owned? Consider picking up the tab for the person behind you. Show some holiday love to that woman-owned fitness studio or card shop that recently opened in your area. Or, what about your favorite hair salon or day spa? If it's a small or minority-owned business, add a gift card for your sister or mother-in-law at checkout during your next visit.
Of course, everyone knows about Oprah's Favorite Things. Well, here I share a few things from  @dannibsays favorite things this year. These businesses are specific to my local area, but you can give back in your local area, too.
Disclaimer: I am not a paid spokesperson for any of these retailers. I have no vested interest in any of these retailers, nor will I receive any form of compensation from any purchase.
Source of Knowledge Bookstore @sourceofknowledge is a black-owned bookstore in downtown Newark, New Jersey. Sadly, I was today years old when I found out about this gem, even though it's been in the community for almost 30 years. The offerings here are vast. During my first visit back in September, I purchased the book I was looking for but had to leave shortly after because of time constraints (tick-tock on the parking meter), but I promised the owner I would visit again and often. I already have some titles picked out for people on my holiday shopping list. You can show this bookstore some love by dropping some books into your online shopping cart.
Mind Your Beads and Seeds @mindyourbeadsandseeds is a black-owned gift garden near me selling live plants and other fun and unique gifts, including waist beads and bracelets made by Mia, the shop's owner herself. I have a brown thumb, but I purchased two plant babies from this super cute shop near my home back in March, and they're still alive and thriving!  You can buy some of Mia's creations in her online shop! The gift garden also offers e-gift cards.
The Yoga Ground @the_yoga_ground is a warm and welcoming studio in my area. I've been practicing here since the studio opened in February 2019. The studio has big studio offerings at small studio prices. Give the gift of Om this holiday season by purchasing a gift card to support this woman-owned small business. For those not in the area, classes are available on Livestream. Gift cards start at $29 for three weeks of unlimited yoga. There's also an option to enter a custom amount.
If you need to scale back your holiday shopping this year or even if you're not shopping at all, there are other ways you can support your local small-owned businesses.
Write a positive review online
Share their posts on your social media
Tell a friend or family member about a small business you love
Post a pic and give a shout out
Attend a virtual event
Volunteer your time
I'll be shopping, supporting local businesses, and shimmying, getting my steps in all while listening to Donny Hathaway's "This Christmas" and Mariah's "All I Want For Christmas Is You" on repeat from the day after Thanksgiving to New Year's Day!
Happy Holi-yays!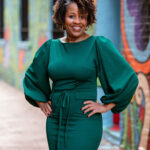 By: Danielle Barnes – @dannibsays (IG) @dannib413 (Twitter)
Danielle Barnes is a freelance writer based in Montclair, NJ. She earned a Bachelor of Arts degree in Public Relations from Wayne State University. Her superpower is her ability to captivate audiences with her words whether it's in person or on paper. Danielle enjoys devouring a good book, volunteering for causes she's passionate about, staying active, and traveling the globe to see the world in all its glory.