Oct 25, 2023
Team Black Girls RUN! x Boston 2024
Black Girls RUN! is so excited to be a 2024 charity partner for the Boston Marathon in April. After hundreds (literally hundreds of applications from around the world!), we have chosen three Black Girls RUN! members to be our official Team Black Girls RUN! champions to receive our charity bibs for next year's marathon. Please meet these amazing women, support them in their fundraising efforts and follow them on their journey to the finish line!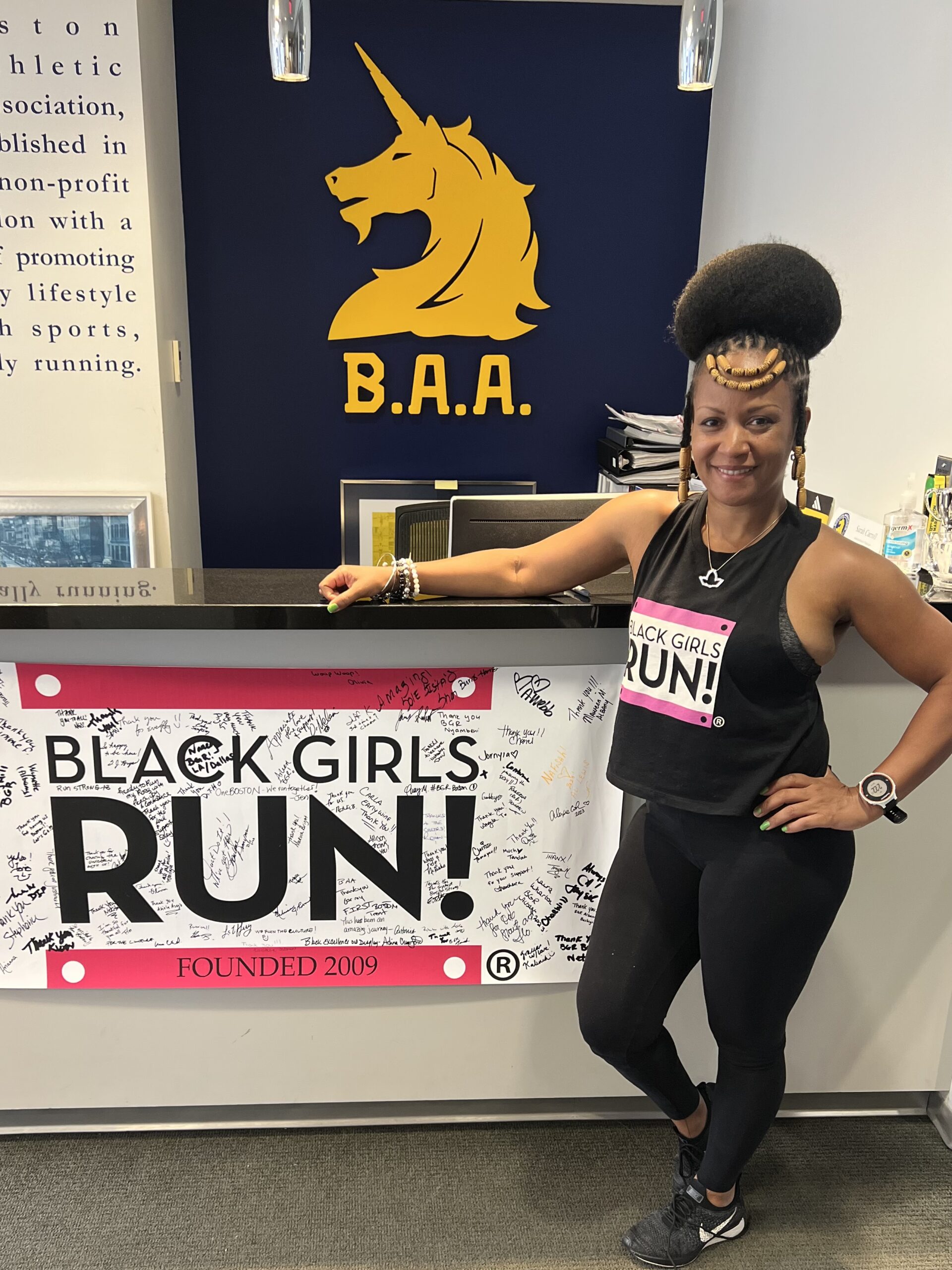 Tonisia Billups (Ambassador for BGR! Jacksonville, FL)
In my late 30s, to become a "distance runner" seemed ridiculous at first.  Once I let go of all the excuses (Fall 2012), I had begun my journey. Slightly overweight, pre diabetic and grossly out of shape, I started to run early mornings after being introduced to BGR! 
I kept showing up until I was pushed to run my 1st 5K November 2012.  That experience led to my 1st 15K (Gate River Run) that following March 2013, which led to my 1st half marathon (IronGirl Clearwater Half) in April 2013! Then once I realized I could run the distance, for me it became all about the pace and next pr! 
To date, I have completed numerous 5Ks, 10Ks, 15Ks, and half/ full marathons. I've also completed "2" 200 mile Ragnar relays (Florida Keys) and the inaugural Ragnar Hawaii on my 40th Birthday, which was the completion of running 40 races in one year ushering in the BIG 4-0!
Wanting to pay my experience forward, I became a RRCA Certified Level I Run Coach in 2016 and Level II Run Coach in 2021. My message to everyone I train is, "Keep showing up until you can keep Up." 
As runners, we often question our why in the moment, but I never question why I ran at the end! So I guess you can say, I run to finish! It's become my why!  It's the one thing I can control and conquer. 
In my quest over the years, I've taken on the challenge to run a half/full in all 50 States (work in progress), a full marathon on all 7 Continents (only Australia and Asia remain), and to become a 6 star world major marathon finisher (only London, Tokyo, and Boston remain).   
In my life, running has helped me to discover more about me, more about the fear, and the strength in me. It's my therapy!
I hope and pray to continue running as God gives me strength!
Facebook: https://www.facebook.com/tonisia.billups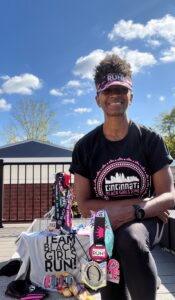 Erica Palmer (Ambassador for BGR! Cincinnati, OH)
Hello, I'm Erica Palmer and I have been on a FUN RUN MISSION for the past 21 years. I say mission because running has given me so many reasons and goals beyond just crossing the finish line at a race. First reason kicked it all off for me. It was right after my baby was born, 21 years ago, and I needed to get rid of my postpartum "mom" body. I bought some decent shoes and learned that a 5K race covered 3.1 miles. It was all new learning to me, but I loved it! I found a certain "self-care" in running, and that gave me the courage to step up to a 10K and take on even bigger distances, and before I knew it I was doing my first half marathon! 
Next mission changed the run game for me. All motivated by finding the dopest run crew in the nation, Black Girls RUN! In 2012, I did my first group run with BGR! Cincinnati, and I found a sisterhood on the pavement. The time spent on the run with my run crew brought even more run fulfillment, motivating me to go after that big full marathon! I wanted to "represent" BGR!, and I've been representing ever since! Finishing 100+ half marathons along with what seems countless finishes at all the distances (5Ks, 10Ks, 15Ks). To that first full marathon, I've added a Chicago Finish ('22), NYC Finish ('21), Paris Finish ('19) and Columbus Finish ('14) and of course Cincinnati's Flying PIG ('12, '13, '18, '19, '20, '21). All done in my BGR! gear. What I've learned is that marathoning is no joke! My finish times are acceptable, but I was completely humbled by the distance. To get better at 26.2, I started studying all things running. This absolutely helped my own run game, but it also helped support my next mission which is to bring more Sista Runners to the start lines. 
I would often show up at a local run event and not always see black women represented. Thanks to Black Girls RUN!, the race landscape is changing. I still ask, "Where are we?" For me, the enjoyment and all the other benefits from running, health, mental, social and more were too good not to have more of my Sistas getting some of this! I started to share what I knew about running to anyone interested and who would lend me an ear. I was given an opportunity through BGR! Nation to become a Certified Run Coach (thanks Jay Ell!!). From here it was on! As Coach Erica, I've been sharing tips and training with as many women of color as I can. For our 2023 Queen Bee Race (Cincinnati women's only race event), our BGR! Cincinnati Run Coach Crew will celebrate and graduate 30 ladies new to running.
What's next? Keeping on with this FUN RUN MISSION, of course! I've appreciated all the lessons and learnings, the adventures and experiences each mile has brought my way. I am sooo excited at what running has for me next! 
Natasha Washington (Member of BGR! Boston, MA)
My name is NaTasha Washington. I am a wife and mother of 2, born and raised in Boston, Massachusetts.  I am a Registered Nurse in the Medical Intensive Care Unit at Brigham and Women's Hospital in Boston where I have been practicing for the past 20 years. It was during my work through the pandemic that I realized the full impact that fitness has in overall wellness for the body, mind and spirit. Using exercise to help relieve the stress I experienced daily as a nurse on the COVID intensive care unit sparked the fire that eventually led me to running. 
Initially, running was a way to further challenge myself physically, but when I connected with Black Girls RUN!, I found it was so much more than just running. The feeling of belonging, sisterhood, and family was instant. From my very first post, the response was overwhelmingly warm and welcoming. It felt like I was coming home just reconnecting with my sisters! I look forward to all the BGR! events because I know it's going to be a good time, filled with movement, love and support! Accepting this bib from BGR! gives me a chance to give back to the organization that supported me during preparation for my first marathon, Chicago 2023. It will be an honor to share my passion for BGR! and raise money for such a worthy organization.