Apr 13, 2022
Spring Cleaning
Spring is officially here, and as temps warm, we look to shed layers of clothing, unwanted pounds and clutter. We take to cleaning out our closets making way for our spring wardrobes and cleaning out our pantries in preparation of the impending change from our winter eating habits. But, living a healthier, more fulfilled lifestyle is not only about how we look and what we feed our bodies, it's also about how we feel on the regular and what we feed our minds and our souls. So, as you take stock of your life and your goals and contemplate your spring cleaning and renewal, be sure to focus on the whole you. Here's how:
Get Physical. Little stops us from reaching our fitness objectives than a bad diet (what we habitually eat on a daily basis), and little fuels our physical capability and the ability to minimize our risk of chronic diseases than a balanced one. You are what you eat is a loaded statement, but it really speaks to the impact of our choices—be it good or bad. Sometimes our days appear to take on a life of their own and throw us curve balls and bouts of feeling overwhelmed that we seemingly can't control. But what we can control is what we consume and nourish our minds, bodies and emotions with. Being conscious of what we eat and how much we move is directly tied to our physical, as well as our mental and spiritual well-being.
Detox Your Mind. Neglecting to properly feed our minds can be counterproductive to living optimal, energized and focused lives. Periodically detoxing your brain from the stresses and perils of everyday life, work and other obligations is paramount. Ensuring you get enough sleep each night is one of the best ways to support your brain's natural detoxification process. Ask yourself what is keeping you awake at night or what is preventing you from getting the adequate rest required to successfully conquer your days and your goals. Is it too much TV or social media, too much caffeine or sugar during the day, your kids' diet and sleep patterns, lack of organization, lack of self-care? Each day contains the same number of minutes, so how do you spend yours?
Align Your Spirit. While you're building physical and mental strength, don't forget the importance of including spiritual nurturing and growth. Physical and psychological well-being can stem from our beliefs, expectations and convictions. Spiritual wellness acknowledges our search for deeper meanings of life and our need for deeper connections to others. It also gives us more discernment when it comes to making sound, everyday decisions; how we use and view our resources (including our time, money, relationships and energy); and who we allow in our intimate circles.
Having a healthy body, mind and spirit is the trifecta for living our best, most purposeful lives, and when they are aligned, they truly work in harmony. What we choose to feed our bodies, our brains and our souls—what we ingest, think or internalize—positive and negative have lasting effects that shape most areas of our lives. So, be intentional!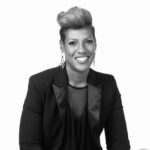 By: Joy Harrell @joyrunsrealestate
Joy Harrell is a licensed real estate agent and co-owner of The Sift Sisters bakery based in Houston, Texas. She is a native Houstonian and graduate of the University of Houston—go Coogs! When she is not helping people buy, sell or invest in real estate, she can be found hanging or traveling with her hubby, running or biking the streets and trails in and around Houston, mentoring girls or testing new food and cocktail recipes.