Jun 15, 2021
So You Want to Run a 5K? Here's How to Start
Ok, it's official. After weeks, months, or even years of walking and running to improve your health, you finally want to give a race a try.
Great! Now what?
Running or walking your first race isn't always as simple as filling out a form online and paying your entry fee. You want to make sure you're prepared to go the distance so you finish the race on a positive note, and it's important to have a physical and mental game plan for the way you approach each mile.
The good news is that there are many training plans to prepare new runners and walkers for their first races or even get them back into racing after a long time away from the sport. Training plans exist for every distance from the 5K to the marathon, and while you can do your plan solo on your own time, you can also complete a program with an organized group for extra encouragement.
One of the most popular programs, the Couch-to-5K, is designed to do exactly what it describes — take someone from their couch to completing a 5K course in about nine weeks. While an official program called Couch-to-5K does exist, when most people talk about it they're referring to a wide variety of programs designed to get sedentary individuals ready for racing within a relatively short period of time. Variations of this program might extend or shorten the training time, or even increase the distance (there are Couch-to-10K programs, for example). The goal is appealing to many — it lets you know that you – yes, you – can follow a concrete week-by-week plan to successfully walk or run your first race.
Here are other resources to help you run or walk your first race.
Local running stores
More than just a place that sells shoes, clothes and gear, running stores often serve as gathering spaces for the local running community. Most offer training programs for a fee, giving you access to quality coaching, running groups, a training plan geared toward completing a specific race and other resources (like shoe discounts!). If your area offers a marathon or half-marathon, a nearby running store usually will have a training program focused on those events.
Race websites
Many larger events have comprehensive websites that include training programs for its series of races. Say you plan to try a marathon or half marathon as your first race (good job!). Your marathon website will likely feature plans that start your training 3-4 months before the race. Even if you don't plan to do a marathon or half-marathon, most marathon weekends include shorter races like a 1 mile, 5K and 10K run, and training plans for those distances should also appear on the marathon website. The event might also have running meetup groups you can join as well.
Running groups
If you're an active participant in a Black Girls Run! chapter, your Ambassadors can organize a Couch-to-5K or other training program to get you started. If there's no BGR! chapter in your area, look up other running groups and see if they have a race-training program you can join.
Go solo
This might not be the most fun option, but you can do it on your own. You can download an app featuring the training program of your choice or just follow a plan you find online or in a book. It can be harder to stay motivated without a group supporting you (especially on the long run weekend), but it certainly can be done.
Ready to get started? How do you plan to train for your first race?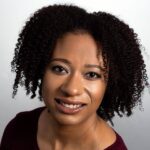 By Shannon Shelton Miller /Twitter: ShannonSMWrites, Instagram: shannon.shelton1
Shannon Shelton Miller is a longtime writer and journalist who enjoys writing about sports, fitness, health, beauty, and parenting. She has been running for 27 years, starting from joining her high school cross country team. She has run a marathon, two half marathons, and countless 5K and 10K races.