May 8, 2021
Saving Myself One Step at a Time: A Running Memoir by T.J. Bryan A Conversation with The Author
T.J. Bryan, the author of "Saving Myself One Step at A Time: A Running Memoir", started running in 2009 at age 64. She completed the 2011 Boston Marathon just two months shy of her 66th birthday. Now 75, she has registered for the 2021 Boston Marathon. If accepted, she will be 76 when she walks to the starting line. T.J. and I connected by happenstance just two months ago and have been running pen pals ever since. I recently sat down with her via Zoom to talk about her book, running of course, and life in general.
Danielle: I loved your book T.J. and I'm so happy we connected! I would not have learned about you or your story otherwise. Thanks for agreeing to this interview!
T.J.: My pleasure. It's great to meet you, Danielle.
DB: The title of your book is "Saving Myself One Step at A Time: A Running Memoir". How'd you arrive at that title?
TJ: I've always been successful professionally. I was often referred to as "The Woman with The Midas Touch." When I suddenly lost my career, I felt as though my life had little meaning. I had and still have a wonderful husband. I have a great son, but yet work was how I defined myself. My early life was characterized by instability, we were very poor, my parents didn't graduate high school, they often separated, and we moved frequently. I decided early on to make something of myself. I worked full time, went to college full time, earned my master's and doctoral degrees, went on to be a college professor, department chair, dean, and eventually a university chancellor. When I lost my chancellorship, I fell down. I remembered my mother telling my sisters and me not to invest too much in a job. She reminded us that we could be replaced in an instant. We did not heed her advice. Instead, we dedicated our lives to our positions. I heeded her wisdom, though, when I lost my chancellorship. My mother came to me in a dream to remind me to be an example for my son. In response, I stood up. Impulsively, I became a runner. Running was a way to save myself.
DB: T.J., your very first race was a half marathon! Who does that?
TJ: [Chuckling] Someone who doesn't know what a half marathon is! I read an article about a half marathon sponsored by the University of Maryland. I earned my doctorate from U of M, so I had an instant connection to the race. Having just returned to Maryland after four years away, I told myself joining a training program offered by a Baltimore running store would be a great way of meeting people. My gosh, I epitomized naiveté! If I had a clue, I don't think I would've signed up for either the training or the race. I was no stranger to hard work. If effort counted, I would finish the training and the half marathon. I was the oldest person in the training group, and with no athletic talent, I was predictably the slowest person, but I persisted. Running forced me to focus on something other than dwelling on the mess that had become of my professional life.
DB: In 2011, you completed the Boston Marathon. What was going through your head as you approached the finish line?
TJ:  I was thinking I'm almost done and I'm still running, not walking. I was thrilled, elated, and excited. It was a big moment! I thought this was my first and last time at Boston and I'm enjoying it. I was smiling all the way I didn't even feel tired once I crossed the finish line. My husband and two of my sisters were there. I don't think I've ever been so happy to finish a race and not just because it was over. I felt joy and pride. It was an excellent day in my life.
DB: David, your husband of 40 years, is also a runner. In the 2017 NCR Half, you both came in first in your respective age groups. He's crewed for you, he's trained with you, and he has to remind you often, "You don't have a shoe contract at stake." Tell me what it means to have him support you in your passion and tell me what that loving jab means.
TJ: David is the man behind the woman. His support extends beyond running. In our marriage, he's always taken on the lion's share of the responsibilities. When our son was a baby, he got up in the middle of the night for bottle feedings. Much to my disappointment, I was unable to breastfeed. He shops, he irons, and he does all the laundry. [Laughing] I won't let him cook, though. He's a great guy, but he has limitations in this area. I wouldn't haven't been able to advance professionally if he hadn't been willing to take on all these responsibilities. This pattern developed early on, and it continues to this day. He drives miles and miles for me to participate in races, and his crewing me is just an extension of our relationship, another dimension. He reminds me about no shoe contract being at stake because he wants me to keep my running in perspective. No one beats up on me more than I do. No matter how well I run in a race or do other things, I want to do better. He wants me to stop flagellating myself.
DB: You qualified for the 2013 Boston Marathon but didn't go because you were plagued with plantar fasciitis. That race was disrupted by a terrorist attack. Three people died that day, and more than 260 people were injured. Your sisters told you it was divine intervention. What do you think? My mother comes to me a lot, and my sisters believe she determines many things beyond the grave. I don't know if I believe what they believe but in 2013, I would have been coming in at the finish line around the time the bombs went off. David couldn't attend that year because of his teaching obligations so my youngest sister was going in his place. If she had been harmed, I would never have overcome this experience. If I missed a race because of injury, I feel fortunate this was the one. I believe my not participating because of plantar fasciitis was just a coincidence, but if our mother did play a role, I thank her!
DB: In 1998, with no family history, you were diagnosed with breast cancer. In 2007, you experienced a crushing blow to your career and in the last decade, you've suffered through multiple running injuries. How did you overcome all of these challenges? The trying lives of my parents and those of other African Americans have shown me that what I've been through is nothing in comparison. My mother had few options other than to clean other people's houses and tend to others' children. My father, a gifted man, worked as a jack of all trades for other people until he established his own small business, but he never had the opportunity to capitalize on his abilities. I have been able to try to achieve my dreams in ways they could not have imagined. Sure, I've dealt with obstacles, but I've continued on. I'm competitive, but that competitive drive is a small part of what I do. If I have an objective, I'm going to do everything in my power to achieve it. I keep on because I want to be an example to my son and others. I feel fortunate.
DB: As you know, my running journey has only just begun. What advice would you offer to me or anyone wanting to run until they're well into their 70s?
TJ: Take care of your body. If you're injured, see a doctor. If you're prescribed physical therapy, do the exercises! Sleep is very important, too, as it has a direct impact on your performance. I'd also suggest cross-training, cardio to complement your running (swimming, biking, and the elliptical), weights to develop your upper body and strengthen your core. Take days off to recover. Eat to run well. [Laughing] Not as many salted pretzels as I eat. Instead, opt for a banana or peanut butter on sandwich thins. Drink lots and lots of water. Finally, have fun!
So many things in T.J.'s memoir resonated with me. I laughed, clutched my proverbial pearls, cringed, and cheered while reading her book. I was inspired, and it is my hope you will be too. You can purchase Saving Myself One Step At A Time: A Running Memoir on Amazon as a paperback, an ebook, and an audiobook.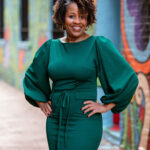 By: Danielle Barnes – @dannibsays (IG) @dannib413 (Twitter)
Danielle Barnes is a freelance writer based in Montclair, NJ. She earned a Bachelor of Arts degree in Public Relations from Wayne State University. Her superpower is her ability to captivate audiences with her words whether it's in person or on paper. Danielle enjoys devouring a good book, volunteering for causes she's passionate about, staying active, and traveling the globe to see the world in all its glory.