Aug 3, 2022
Running Travel Journal: Chicago
When a lot of us take those first steps toward running, we're happy to just make it around the block. Then we run a mile, a 5K, a 10K – and before we know it, we're training for a half-marathon, a marathon, and even more!
As we start taking on those longer distances, it often turns into training for a race that might not be close to home. If you're a member of a BGR! chapter, you might meet a lot of members who travel to other cities, states, and even countries to participate in a half marathon, marathon or other race. The more passionate we become about running, the more travel becomes part of our running journeys as well.
Throughout the year, I'll share some of my running-related travel adventures and experiences. I hope they inspire you to hit the road to, well, hit the road!
Running in the Windy City
With apologies to my current city (Dayton, Ohio), my hometown of Detroit and my BGR group in Cincinnati, I have to declare Chicago as my favorite place to run.
The views are just gorgeous. Running along the lakefront with Lake Michigan as your backdrop is just breathtaking, and the breeze from the lake is much appreciated on a hot day. Chicago has plenty of paved running trails that give you a dose of nature in an urban setting, and there's nothing like looking at a magnificent city skyline while hitting the pavement.
Chicago also has a very strong, organized running community with excellent, well-run races of all distances almost year-round. If you want to do a race every week, you'll have that opportunity in all parts of Chicago and its suburbs. Runners everywhere are always so welcoming and friendly, and with so many of them to meet in Chicago, you'll find your community quickly.
Yes, Chicago can be VERY cold, snowy and windy during the winter, but spring, summer and fall temperatures are more than manageable. (Summer can even be too hot sometimes!) There's a reason the Chicago Marathon is one of the great fall marathons in the U.S., and fall might be my favorite time to run in the city.
And it's flat. Oh so flat. As much as I enjoy my trail running and hill running experiences in Ohio, if I'm going to achieve a personal record time, it's going to happen in Chicago. (In fact, it's happened twice for me in the Windy City!) Flat courses = great times, so if you're really looking to PR, consider scheduling your big race here.
Big Ten, Big Race
I traveled to Chicago this year for the Big Ten Network 5K and 10K, races celebrating the alumni of Big Ten colleges and universities. The event returned to an in-person format for the first time since 2019, so I had to be there.
I love the idea of this event, as runners can select T-shirts representing their alma mater and mingle with runners from other schools. It was all love that day, even among bitter rivals, and there was a party at the end with games, drinks, photo opportunities and cool Big Ten swag.
The race started at Soldier Field just south of downtown this year, with a nice out-and-back course along the lakefront. During the race, we ran into (no pun intended) plenty of local runners doing their regular training runs on a Sunday morning, and the July heat held off just long enough for most of us to get done before it started feeling too bad.
The best part was that it was a family affair, as I ran the race with my brother who works for the network in Chicago and enjoys staying active. Doing a race with a family member can make any experience extra special.
If you're looking to visit one of America's great cities AND have a fantastic running experience while you're there, definitely plan a future race in Chicago!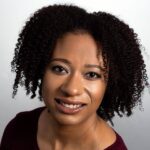 By Shannon Shelton Miller /Twitter: ShannonSMWrites, Instagram: shannon.shelton1
Shannon Shelton Miller is a longtime writer and journalist who enjoys writing about sports, fitness, health, beauty, and parenting. She has been running for 27 years, starting from joining her high school cross country team. She has run a marathon, two half marathons, and countless 5K and 10K races.