Aug 30, 2021
Running: It's a Family Affair!
Good health habits start early, but so many of us came to the sport of running a bit later in life. We discovered a joy in movement we never thought was possible in our younger years.
While I loved running as a child, I never participated in any kind of formal program until I joined a team in high school. Still, I always wondered about how good I might have been if my interest in distance running had been nurtured much earlier.
That's why I decided to enroll my children in a youth cross country program, and I regularly run with them at local fun runs. I'm not looking for Olympic glory, but I want to give them the opportunity to build a love for running and fitness at an early age just by having fun.
Running and walking with your kids is not only a great way to encourage health and fitness, it's a wonderful way to bond with them as well. Here's how I've started to incorporate running into our family lifestyle.
Take them to the track
Sometimes the hardest part of getting my weekly miles in is finding someone who can watch the kids when dad or grandma aren't available. A speed workout on a track is a great way to stay on top of my training and take the kids with me.
On a track, the kids are always in view. They can run around the track themselves or play in the infield while I'm zooming around. Most tracks are open to the community, so multiple people are usually there getting their workout on while I'm running. I always feel a sense of safety for myself and my kids when we're on the track.
Slow down!
Even though your kids might be bundles of energy inside the house, watch them moan and complain the second they have to walk to the end of the block! In other words, don't expect them to take that running-around-the-house-speed and translate that to road racing!
When I just needed some fresh air or wanted to get a quick mile in, I had the kids come along and we took however long we needed to just jog and walk our mile. We walked and talked, waved to neighbors and just enjoyed our time in nature. Most importantly, I was normalizing walking as a regular family activity, one I hope they'll carry with them as they grow older.
Start coaching
As a parent volunteer for my kids' cross country program, I spent an hour twice a week running relays, chasing down children and engaging in other fun activities to help them enjoy distance running. Instead of sitting in my car waiting for them to finish, I was getting my workout done while being an active participant in their activity. That also helped me deal with the lack of childcare issue – even if I wasn't volunteering, I could run around the park while they were at practice.
Enter races
Many local fun runs have a shorter race of 1K up to one mile just for children. I noticed how much my kids enjoyed running against other children versus only running with me, and they did make an effort when they were participating in a race. They loved pinning a number to their shirts and getting the medal at the end. Who knows, in a few years, they might be ready for a full 5K!
The most important thing is simply having fun. It's not about turning them into elite runners or pushing them hard – it's about creating a positive feeling about being healthy, being active and having fun with Mom.
Photo by Mary Taylor from Pexels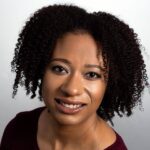 By Shannon Shelton Miller /Twitter: ShannonSMWrites, Instagram: shannon.shelton1
Shannon Shelton Miller is a longtime writer and journalist who enjoys writing about sports, fitness, health, beauty, and parenting. She has been running for 27 years, starting from joining her high school cross country team. She has run a marathon, two half marathons, and countless 5K and 10K races.