Sep 9, 2021
Running Blues
Often in our journey we get so caught up in the hustle of getting results. We get frustrated when we don't see the results quickly. When I began running it really felt like a chore. I was tired of doing something that I felt like I was struggling with so much. Finally, one day I picked up a book that focused on the spirituality of running. After reading this book it really opened my eyes to understand the meaning of really finding my inner "ME" and the fun that I enjoyed in running.
I took a step back and really tapped into my inner childlike, you know that fun feeling we all once had as a child. I began to really look at running and fitness on another level. There are times in your fitness journey that you must really sit down and go back to the fun you once had in your childhood, the inner child fun.
So how do you get rid of the Running Blues?
Find your Why?
Ask yourself these questions, "Why are you running? What brought you to running?" Each time that I find myself slowly getting into the Running Blues I go back to my Why. Let your WHY be what motivates you to keep pushing forward.
Try on something NEW
Take a mini-break and do something fun. Take the pressure off training, the pressure off of trying to check that box. Allow yourself to play and to have fun.
Surround yourself with like-minded people.
One of things that I absolutely love about Black Girls Run is the community. It's the community that helped me stay motivated and encouraged me to keep moving forward.
Rest is KEY
When you start to feel yourself getting burnt out, take a break. Taking breaks will not cause you to fall behind. Rest helps to replenish, renew and revive your mind and body.
Have FUN
Say what, have fun? Yes, have fun. Sometimes we can take training so seriously that we miss the love and the fun that brought you to running. Allow yourself to simply have fun.
Will the journey of fitness be frustrating?  YES
Will you want to throw in the towel? Yes, you will and that is okay we all have those days, but we must remember our WHY and to go back to that childlike play within our fitness.
Have fun with the journey, tap into that inner childhood of no fear, no worries and the just want to have fun mentality. The more we take our mentality and fitness to that level the more we will enjoy the process. So don't STRESS, live life fearlessly and most important live life freely, full of joy, laughter and fun. Don't let the Running Blues cause you to lose that JOY, LAUGHTER and FUN that you found in running.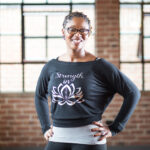 By: Felicia. R. Hall @feliciarhall
Felicia is an educator and motivator at heart. Felicia is a Certified Athletic Trainer, Corrective Exercise Specialist, Run & Fitness Coach, RYT 200 Yoga Instructor, Educator and a doctoral candidate. She is a small-town girl who loves running, nature and helping others become the best version of themselves.