Dec 28, 2022
Run for the Holidays
I love running in December. Even though my running buddies and I are usually busy with holiday shopping, decorating and end-of-school activities with our children (or with our own studies), we always find the time to sneak in a run when we can. Maybe it's the holiday spirit at work, but there's a real desire to gather in community at this time of year, even if it is to run a few miles.
Since running is just as much of a social outlet for me as it is a fitness regimen, I'm always looking for ways to celebrate the season while hitting the pavement. Luckily I'm not alone, and my running community offers many ways to celebrate the holidays with some merry miles.
If you're feeling in a rut with your running this month – maybe it's too cold or you're just too tired – look into these fun ideas to deliver some holiday cheer to your running routine.
Holiday 5Ks
Jingle Jogs, Candy Cane Lanes, Running through the Lights, Christmas in The City – whatever they're called in your area, those December fun runs sure have some jolly names! Run 3.1 and take a picture with Santa or enjoy a glass of egg nog or hot chocolate when you're done. These races will definitely make you want to show up with bells on!
Christmas light runs
Strap on your headlamp or your running light body bands, grab a group and jog through the best lit neighborhoods in your area after dark. You can't help but feel festive checking out the magnificent light displays all around the town, plus you'll be glowing yourself with the illuminated night gear that helps keep you safe on the road.
Christmas/Hanukkah/other party runs
It's just like your usual holiday party, just add running! Instead of gathering only to eat and exchange gifts, schedule a run first, then head inside for some merriment! Many running stores host holiday parties in December, even the morning of Christmas Eve, to bring the running community together to celebrate. Between my BGR chapter, my other running groups and the local running stores, my holiday party calendar is filling up quickly!
Ring in the New Year
Want to make a resolution for good health in the new year? Start with a race to say goodbye to the old one. Evening races on New Year's Eve are more popular than many might think, and if you don't want to spend the evening at a bar or restaurant, join your fellow runners for a refreshing night run. Then, give a toast for a happy new year!
See you in 2023!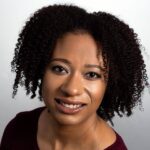 By Shannon Shelton Miller /Twitter: ShannonSMWrites, Instagram: shannon.shelton1
Shannon Shelton Miller is a longtime writer and journalist who enjoys writing about sports, fitness, health, beauty, and parenting. She has been running for 27 years, starting from joining her high school cross country team. She has run a marathon, two half marathons, and countless 5K and 10K races.