Mar 9, 2022
Rest Is Part Of The Program
It's training season; many have already done many races, while others are starting to hit the pavement. Wherever you are right now, take time out to program REST DAYS. Rest is part of the program as well. Naturally, we think that doing the work creates strength and growth. What if I told you that change also happens when we allow ourselves to be still and allow ourselves restfully.
Imagine this after spending three days of an intense workout; then I spent three days resting that I was able to run at a faster pace. How was this? My body was able to recover from the intense workout, and I utilized my muscles more efficiently. So what are you saying, Felicia? Even though we may feel as if we will lose that drive or tenacity by resting, we give our bodies a gift—the gift of relaxation, rejuvenation, and healing.
There are five thoughts that I keep in mind while I am resting my body
My body deserves the rest
You worked hard. Now it's time to let my muscles heal
I will perform better once I allow my body to rest
You are not missing anything by resting
Finally, It's okay to REST
Remember, there is a difference between resting your body and being forced to rest. We never want to be forced to sleep.  Rest is necessary to allow your body to recover from an intense workout fully. So how do you know that your body needs rest?
You start to feel aches and pains that are more than just soreness
Your performance starts to decrease (your runs are not efficient)
You are tired all the time
Your recovery is not as efficient anymore (meaning that you are not able to bounce back as you used to)
You're easily aggravated or frustrated.
Our bodies are so unique, and it gives us signs every day. We have to be mindful and listen to what our bodies are trying to tell us. Many times, we can alleviate many problems, injuries, restlessness, stress, and other illnesses by simply listening to our bodies. Often, injuries occur because we don't allow our bodies to recover fully. As I tell my athletes, we can choose to rest our bodies, or our bodies will rest unwillingly after being injured. Don't let this be you, always remember, "It's Okay to REST!" Always know that you are not a step behind or miss out if you decide to REST. REST allows you to rejuvenate, renew, restore, revitalize so that you can perform at your BEST. So as you continue to train this season and begin to plan your week runs/workouts, don't forget to schedule REST DAY. Remember, REST is part of the program. REST DAYS are the BEST DAYS.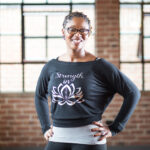 By: Felicia. R. Hall @feliciarhall
Felicia is an educator and motivator at heart. Felicia is a Certified Athletic Trainer, Corrective Exercise Specialist, Run & Fitness Coach, RYT 200 Yoga Instructor, Educator and a doctoral candidate. She is a small-town girl who loves running, nature and helping others become the best version of themselves.