Sep 28, 2022
Race Day Ready! 5 Key Tips to Help You Prepare for Race Day
I love race week, the excitement, the nervous feelings but also that feeling of what I've been working towards is finally here. Race week can also seem a little daunting because of the feeling of not knowing what to expect.
I don't focus so much on the what-if this happens or that happens, but I focus on the training I've done and how I can ensure that I set myself up to be ready on Race Day.
So, what does that mean to be ready for race day? Here are 5 key tips to help you prepare for Race Day.
Start drinking water now
Now let me say this, you should be drinking water throughout your entire training. In addition, it's very important to make sure you hydrate properly during the week before your race day. Whether the weather is hot or cold, you want to ensure that your body is ready by being properly hydrated. Never wait until the night before or even race day to get hydrated. Don't depend on the water at the water stations to keep you hydrated because you never know what may happen and you always want to be prepared.
Fuel your body
Again, this is something that you don't want to simply wait until the week before to begin thinking about. You want to make sure you are fueling your body properly throughout the entire training season. During race week it's important to know what foods to eat prior to racing and what fuel you may need while racing. Never test things out the day of the race or during the race, believe me, your body will thank you later.
Don't forget to stretch
Now, you've been stretching the entire training season, right? Yep, I know you have; well, it's even more important to stretch before your race day. Make sure you take time out to do a yoga class, mobility, or flexibility class. When you take time out to stretch your muscles you allow yourself to open more room for your muscles to work through their full capacity. What does that mean? It means you're able to perform better with stretched-out muscles versus tight muscles.
What are you wearing?
No seriously what are you wearing? This is so important to make sure whatever you are going to wear during the race day that you have already run in it before or tried it out. It's never fun to buy a cute outfit to only be annoyed the entire time while you're running because it keeps falling or too tight. Make sure you prepare for what the projected race day weather may be. As we all know sometimes the weather will say one thing and be something else. Therefore, it's important to be prepared no matter what the weather decides to do.
Sleep Tight
Sleep is known to help recover muscles, therefore, allowing for the better overall performance of muscles. As you fall asleep into the deeper stages of sleep, your muscles will see an increase in blood flow which brings in oxygen and nutrients that aids in the recovery process. It's very important to make sure to get an adequate amount of rest, especially during the week of the race.
Race week can be so exciting yet so many things can be missed on race week. Make sure you incorporate these 5 tips to help you show up and show out on race day.
Happy Racing!!!!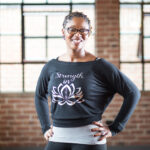 By: Felicia. R. Hall @feliciarhall
Felicia is an educator and motivator at heart. Felicia is a Certified Athletic Trainer, Corrective Exercise Specialist, Run & Fitness Coach, RYT 200 Yoga Instructor, Educator, and a doctoral candidate. She is a small-town girl who loves running, nature, and helping others become the best version of themselves.