Jul 27, 2021
One Running Shoe Does Not Fit All
In October 2009, I enrolled in an 8-week outdoor boot camp in a park near my home. On the first day, I wore my college sweatshirt, a pair of black leggings, and a very worn-in pair of sneakers.
It was a grueling strength training class, and it always started and ended with a short run. After the first few sessions, I felt this excruciating pain on the top of my shins. I had never experienced such pain. I mentioned it to the coach one day. She said, "It sounds like you may have shin splints." It was the first time I heard the term. My eyes followed hers as she looked down at my feet. Pointing at my shoes, she said, "They could be the cause." What's wrong with my Nikes? Sure, they were a bit old, but they were cute.  The coach suggested I visit the local running store for a shoe fitting.
The very next day, I went to the local running store and had a gait analysis. I ran on a treadmill as the store employee watched and a camera recorded. The results revealed I tend to overpronate and heel strike. The employee suggested I shorten my stride to prevent overuse and injury. He measured my foot before disappearing and reappearing with a few shoes for me to choose. An hour after entering the store, I left with a new pair of well-fitting running shoes. My feet and shins were happy, and I finished the program pain-free! Oh, and about those super cute Nikes? They were too narrow, a half size too small, and offered very little support for my feet.
Here are a few things to consider when buying a proper running shoe.
Sneakers or tennis shoes and running shoes are not synonymous. Sneakers tend to be more fashion-like. Running shoes are for running and walking. These specific shoes tend to have more cushioning and support and protect your feet from the constant pounding on the pavement.
Choosing the right running shoe can be a daunting task. If possible, make an in-store visit to a specialty running store. Running stores are staffed with specially trained experts, many of whom are runners themselves, to help you sort through the many options to determine what brand, model, and size are best for you. Try to aim for fit over fashion.
If the running store offers gait analysis or 3-D foot scanning, do it. It only takes a few minutes and will prove helpful to the store employee when they dash off into the stockroom to pull shoes for you.
Speak up! Now's the time to tell the employee what you're doing, e.g., walking, running, cross-training, or goal-specific training; a 5K or a marathon. Tell them about any pain or injuries you've experienced.
Take your time and try on several pairs. Then, take a test run, literally! Often, stores will let you run outside to test a new shoe. If this isn't allowed, be sure to ask about the store's return policy.
It's not always easy to find a specialty store in your local area so, you may have to drive a little farther, and you may have to pay a bit more, but it will be well worth it in the long run!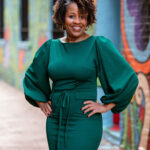 By: Danielle Barnes – @dannibsays (IG) @dannib413 (Twitter)
Danielle Barnes is a freelance writer based in Montclair, NJ. She earned a Bachelor of Arts degree in Public Relations from Wayne State University. Her superpower is her ability to captivate audiences with her words whether it's in person or on paper. Danielle enjoys devouring a good book, volunteering for causes she's passionate about, staying active, and traveling the globe to see the world in all its glory.