Aug 26, 2021
Night Owls
On an evening trail run with friends one day, one of my running mates said she was going to enter a trail race where a good portion of the running would take place at night.
"Come on, you should join!" she said.
Run in the woods? At NIGHT? Uh…
I've talked about my adventures running on the trails in a past blog, but I'd never done an actual race on the trails. I've only done one night race ever – a "glow run" with fluorescent shirts and necklaces that light your way through the dark. Still, even those races are held in populated areas with plenty of streetlights and security to make you feel you're not truly in the dark.
But these women sounded excited. They said they were going to sign up. Many of them had run that trail before and assured me it would be impossible to get lost and that I wouldn't get eaten by wild animals. As long as they were with me, it would be ok, right?
I reminded myself that this was my year of saying yes, so it was time to say yes to a new adventure.
Before the event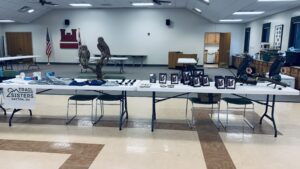 The Night Owl Trail Marathon, Half Marathon and 10K took place June 26 at a state park in Southwest Ohio. When I signed up for the 10K, I was happy to see how many people were running overall. With more than 100 folks there, I figured it couldn't be too unsafe.
I was also thrilled when my Black Girls Run! Cincinnati ambassador, Erica Palmer, decided to sign up. I would have friends from multiple running groups participating which made me feel even more comfortable – and even a bit excited – about the event.
The weather was beautiful, and with an 8:30 p.m. start, we got about 45 minutes of sunlight before the night set in. Running in the evening also meant we didn't have to worry about sun beating down on us, and the 85-degree temperatures had settled into the high 70s by the start.
I was nervous all day. When your race doesn't start until almost bedtime, you have a lot of time to kill. I did a Pilates workout that morning to get flexible. I bought groceries so I'd have something to eat the next day if I didn't want to move. I filled up the car so I didn't run out of gas on my way there and back.
Finally, it was show time.
The race!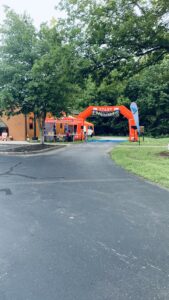 It started like any other 5K, 10K, half marathon or marathon. I lined up with all my friends from BGR! Cincinnati, She Runs This Town Dayton and Trail Sisters Dayton at the starting line, which was on a paved path in a park. Someone played the national anthem. We got a few parting words of encouragement. The horn blew and we were off!
Erica and I fell into a good groove running within a few paces of each other. We left the park and ran down a road – nothing new there – then turned the corner and entered the woods.
The dirt trail was fine, but the path was rocky, with tree roots everywhere. I almost fell about seven times, with Erica hearing my almost-falls and calling out to ask if I was ok each time.
"I'm fine!" I said.
We walked up hills, splashed through creeks and maneuvered around mud. We crossed a pirate's bridge, stopping to snap a photo of the view at sunset. At times it felt spiritual – you could experience the beauty of God's creation being right there in it.
Erica and I reached the three-mile mark around 9:15 p.m. There was an aid station where we could get some water and catch our breath a bit before heading back the way we came to the finish. We felt good, with plenty of energy for the final 3.2 miles.
And then it got dark. Like really dark. It wasn't gradual either – it was almost like a dark curtain fell at that one exact moment.
The race required us to wear headlamps and I totally understood why now. The way back was also not as well marked as the path into the trail. Erica and another runner, Jeanine, who'd been going at our pace would venture one way and I'd venture another to see if we could find a marker telling us where to go.
At one point, they were gone. I called out to them with no answer. Ok, I was on my own. I stopped to walk a bit, looked up and saw the headlamps from some of the marathon and half-marathon runners starting their second loop and headed in their direction. I saw a flag marker and was back on track. Phew! I was off course probably about five minutes, but it felt like a lifetime.
I ran into Erica and Jeanine. They'd gotten lost a different way, but we were all together again. I almost fell a few times – again – but we were five miles in, then six… and then we saw the road that took us back to the finish line.
We sprinted. Erica came through to finish sixth among all women, then Jeanine followed in eighth. I came right after that and darted through the finish line. With the detours, we ended up doing about seven miles overall.
We hugged in the dark and took our photo as the race organizers hung the cool owl medal around our necks. We cheered our other friends in and headed into the visitor's center for a feast – trail runs have awesome food at the end, I learned.
What a night. It felt electrifying. It's still an experience I don't quite know how to explain, as I've never done anything like it before. I overcame my fear of running at night. I conquered running a trail race. I did it with friends old and new.
So far, this might be my best running experience of 2021.
What running adventures do you have planned this year?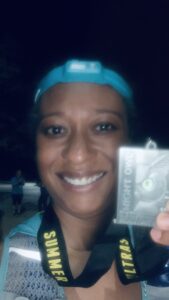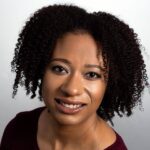 By Shannon Shelton Miller /Twitter: ShannonSMWrites, Instagram: shannon.shelton1
Shannon Shelton Miller is a longtime writer and journalist who enjoys writing about sports, fitness, health, beauty, and parenting. She has been running for 27 years, starting from joining her high school cross country team. She has run a marathon, two half marathons, and countless 5K and 10K races.