Apr 23, 2021
National Minority Health Month
With temperatures getting warmer and many of us eager to spend more time outside, it's a great time to talk about the importance of our physical health.
April is National Minority Health Month, which coincides quite well with our budding "spring fever." Not-too-hot and not-too-cold weather makes us want to take walks, lengthen our runs and maybe even hit the gym more often to sculpt that summer body. These actions can help add years to our lives since exercise helps boost our overall health.
Get #VaccineReady
While the Centers for Disease Control and Prevention in recent years has focused on the importance of physical activity, this year's National Minority Health Month theme is #VaccineReady in recognition of the disproportionate impact of the COVID-19 pandemic on communities of color. Learn more about these efforts here.
The coronavirus has been the most significant global public health concern of the past year and a half, and African Americans have experienced higher death and hospitalization rates from COVID-19. While the battle against racial health disparities requires a comprehensive examination of systemic bias in health care, we can work to end cycles in our own families by taking charge of what we can control with our own health.
We all know by now how much COVID-19 can affect long-term health, so continuing to follow COVID-19 safety measures including wearing a mask, washing hands often, staying 6 feet apart when interacting with others, avoiding crowds and getting vaccinated is crucial. BGR! is doing its part by educating members about COVID-19 safety before group runs, following local ordinances restricting gatherings and having members sign a COVID-19 waiver before joining group events.
Why is physical activity important?
A sedentary lifestyle raises the risk of multiple health conditions, including heart disease, high blood pressure, high cholesterol, Type 2 diabetes and obesity. The latter two often go hand in hand — the CDC notes that more than 84 million US adults have prediabetes, and 90% of them are unaware of that status. A lack of physical activity and being overweight are the most significant contributors to diabetes and prediabetes.
A lack of physical activity can also raise the risk of certain cancers, including bladder, breast, colon, uterus, esophagus, kidney, lung and stomach cancers.
But don't wait until a worrisome blood test or a trip to the doctor for nagging health issues before incorporating physical activity into your lifestyle. Being active reduces the risk of developing the diseases listed above, improves sleep, helps maintain a healthy weight, increases energy levels, boosts brain power and improves overall health and wellness.

According to the CDC, only 1 in 4 adults and 1 in 5 high school students get the amount of physical activity need to "maintain or improve overall health and reduce the risk of chronic disease." The Physical Activity Guidelines for Americans recommend that adults get at least 150 minutes of moderate-intensity aerobic activity – like a brisk walk — each week. The goal is to find an activity that increases the heart rate. Children six and over should have at least 60 minutes of moderate activity each day and younger children should have some daily physical activity.
Celebrate good health
Living a healthy lifestyle isn't limited to a month, but National Minority Health Month offers the opportunity for us to take stock of how we're feeling and consider any changes we need to make.
Start today or tomorrow with a brisk walk or run and schedule your annual physical to learn more about your current health status. Don't hesitate to talk to your health care provider about an exercise regimen and other steps you can take for a lifetime of good health.
How are you committing to your health this year?
*Photo credit: Arek Adeoye @areksan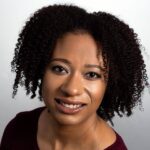 By Shannon Shelton Miller /Twitter: ShannonSMWrites, Instagram: shannon.shelton1
Shannon Shelton Miller is a longtime writer and journalist who enjoys writing about sports, fitness, health, beauty and parenting. She has been running for 27 years, starting from joining her high school cross country team. She has run a marathon, two half marathons and countless 5K and 10K races.