Oct 20, 2021
My Journey Back to Running – 7 Tricks to Jumpstart Yours
In school, track was the only sport that didn't have tryouts. Unlike all of my childhood friends, I was never very athletic. But track gave me an opportunity and I took it. This was the beginning of my love for running, even though it took a long time to get there. Eventually in high school, I became an asset to our team and was encouraged to join the cross country team. Still not much of an athlete in my eyes, I had no desire to run miles and literally couldn't. I joined anyway. That summer before cross country season started, I regularly spent mornings at a high school track with my dad. Starting with 1 lap, I built my endurance an additional lap at a time until I could run 2 miles. Looking back, this still means a lot to me—I did cross country 3 of the 4 years of high school and it started as something I never even thought I could do. 
Fast forward to college, running became more recreational for me. Long before I knew the benefits of talk therapy, running is what I used to chase my anxieties away. No matter what, I could always come back to the track, run my laps and feel powerful. This relationship with running is something I grew to count on. I eventually challenged myself with races, from 5ks to half marathons. But I have been out of college for a handful of years now and the ups and downs of life have really gotten in the way. It seems like one day I woke up and I just couldn't run anymore. I realize that's not how it happened. But I was never a very consistent runner and I still could always count on getting in at least a mile or 2. Today, I pucker out at the half mile mark. And my mind doesn't motivate me to take the next step the way it used to. I recently came to the realization that I have to start over—and that it is possible to run again. 
If you're struggling with your passion for running or maybe you're new to running all together and feeling intimidated with getting started, I'm with you. After years of running, I have to start fresh. I'm going back to the track, where this all began and as a visceral reminder that I can do this. And as I embark on my new journey with running, there are some steps I am taking to stay grounded in the process. I'm sharing them with you for accountability, but I also hope they help you if you are on a similar journey. 
 

Set a SMART goal

– SMART goals are specific, measurable, achievable, relevant and time-bound. My SMART goal is to run a 5k before the end of 2021. Your goal should be tailored to you and will help to keep you on track when you lose motivation.

Get Fitted for Running Shoes

– I've been running in the same pair for years (not recommended). I was fitted a while ago, but I recently visited a local running store to get fitted again for what shoe works best for my arch. If you haven't already done this, try it! Having shoes that properly support your body will make a huge difference.

Set a Schedule

– I would like to commit to running 3 days per week. But your running schedule must work for you. Once you've set your schedule, commit to being consistent.

Know Your Limits

– Be sober about where you are in your running journey. Don't be like me who has been miserably and inconsistently trying to run 2 miles out of nowhere. Not only is that not good for your body if you're out of shape, it doesn't feel good mentally. And running relies on your mentality just as much as your physicality (if not more). So, I decided to take a step back and identify what I could run (half of a mile) and build on that— instead of feeling inadequate for my inability to reach 2 miles effortlessly. What are you capable of?

Identify Where to Run

– I hate running on a treadmill, but you may love it. In the past, the track provided me with clear distances that motivated me to keep running. Do you like scenic runs? Choosing the right place(s) to run can make a huge difference in keeping you energized and excited about your mileage.

Find a Running Buddy

– Black Girls Run! creates a beautiful community for us to find Black women on similar journeys. Lean into this if you haven't already. I'm personally so happy that group runs are starting up again. Not ready to be in a big group? Leave a message on your chapter's page inquiring if anyone wants to run with you individually. Accountability and support from others definitely goes a long way.

Reward Yourself

– Set milestones and identify things that will motivate you to stay on track along the way. After 1 month of conditioning in the gym, I bought those new running shoes! And at month 2, I'm signing up for that fun 5k I've been eyeing. Get creative with your rewards—maybe you get that facial or massage you've been wanting and deserve. Take this step seriously; it has really helped me with making past goals more fun.
Good luck!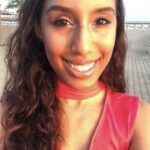 By Ashley Sowers/Instagram: @butimnotawriter
Ashley Sowers is passionate about wellness and uplifting the Black Community. A freelance writer for the Cleveland online publication Black Girl in the CLE, she enjoys telling stories that encourage Black women to live their best lives through health & wellness, arts & entertainment, and food & travel. She earned her Bachelors and Master's degrees from Case Western Reserve University in Medical Anthropology and Medical Physiology, respectively. Her long-term professional goals involve increasing the accessibility of mind-body therapies among the underserved. Ashley is a runner at heart, but also loves to eat (a lot) and spend time with friends and family in her free time.