Apr 15, 2021
My First 5K (of 2021)!
No time for fooling around – on April 1, I ran my first 5K of 2021!
While I've run many road races in the past, this one felt special. After almost a year of virtual races and solo runs around my neighborhood, it felt amazing to finally return to competitive running with an in-person 5K.
With pandemic mandates differing throughout the country, some BGR members might have been able to run some live races last year, while others might still be waiting to run that first live 5K since COVID-19 hit. A few races took place in 2020 under strict social distancing guidelines not far from where I live, but most major events were canceled due to public health guidelines.
While we all understood the reasons, it was hard for the competitive folks (like me) to stay motivated without an event to run. That's why I was cautiously optimistic for this year when I saw a few live races popping up on local race organizers' schedules, even though I signed up for too many last year that went virtual when local public health agencies decided not to give permits for live events.
On March 23, I took the plunge, registered for an April Fool's Day 5K and crossed my fingers that we'd be able to stay live. And on that glorious April Fool's Day afternoon, when I drove to the course and saw a time clock and a start/finish line, I knew it was race day – no fools here! I didn't even care about the occasional snow flurries and the 36-degree weather a day after it had been 70 degrees.
I soon learned how different road racing in 2021 would be from running in pre-COVID times. I got a glimpse of that during the handful of races that managed to take place in 2020, and I know these restrictions might continue for at least a few more months.
First, everyone must register in advance and pick up their packets shortly before the race to limit interaction with the staff handling the check-in process. Participants then come to the starting line and depart individually or in small groups – no more large gatherings at the start of the race. Some races require runners to wear face coverings to pick up their registration packets and keep them on while waiting at the starting line. At the same time, a marathon weekend took place not far from me with conditions almost identical to a pre-COVID race, so your experience may vary.
I'll admit the restrictions do take away from the full race experience. There's nothing like the energy of a crowd, the random conversations that take place while you wait and the sound of the horn that let's you know it's time to RUN! But I'll take a race with restrictions versus no race at all, and the other runners and walkers on the course seemed to agree. We all waved, smiled and gave each other thumbs up as we passed by, all of us just happy to be back out there. Because of the different starting times, we didn't know who was ahead or behind, and we were all just enjoying the experience.
I didn't know my final time when I crossed the finish line but was able to see it online within minutes. I was thrilled! I finished in 31 minutes, 18 seconds, about two minutes faster than my neighborhood run time. I guess the race-day adrenaline DID happen for me after all.
I couldn't wait to do another, so I signed up for another modified live 5K scheduled for two days later at a park. This time, I finished in 30 minutes, 21 seconds, dropping almost a minute in just two days.
The racing season is just getting started and I'm happy to see that many more in-person races are appearing on our local running calendar. Can't wait to get back under 30 minutes soon!
Have road races returned to your area? Are you training for a live race this year? Let us know!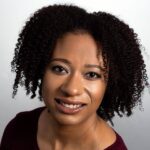 By: Shannon Shelton Miller/ Twitter: ShannonSMWrites, Instagram: shannon.shelton1
Shannon Shelton Miller is a longtime writer and journalist who enjoys writing about sports, fitness, health, beauty and parenting. She has been running for 27 years, starting from joining her high school cross country team. She has run a marathon, two half marathons and countless 5K and 10K races.