Jun 10, 2021
Kick-Start Your BGR! Journey
"I've been seeing these ladies in my neighborhood on certain nights meet up and it looks like they're running or walking or going somewhere. They're all dressed in workout gear, most of them in pink and black gear with paraphernalia that says something to the effect 'Black Girls' or running or 'Leave it all on the Pavement' and other cute sayings. I wonder what are they doing." Then there's the woman who is a member of the Facebook group and is fully aware of who and what Black Girls Run! is, but just doesn't know how to quite get started. She just can't seem to actually make that move and get out on the pavement. She's an encourager, she gives congratulatory messages to the ladies who post on the Facebook page, but she has never set foot on the pavement as part of a group. She needs a kick-start.
Just like a car's battery may stall out and need a jump, this woman needs a jump to get started on her journey. She's interested in joining an actual group, and she knows she needs to incorporate more movement into her life, but there is a roadblock there that she just can't seem to get over.
How do you kick-start an exercise routine? First, the journey must start within. You can tell someone over and over they should do this or they should do that. You can tell someone on more than one occasion they should come join you and workout together. It is not until the mental part of their decision is conquered, that their kick-start will begin. Yes, the hurdle to get over is your mind. The hurdle is your thinking.
Starting an exercise program you can stick with is not always easy. Oftentimes, you will be eager about a new fitness plan only to burn out six months later (or earlier), because the pace simply wasn't sustainable. Additionally, there was no one to hold you accountable. When you didn't show up, there wasn't someone asking "where is she?"
So how do you start and remain consistent? How do you start and remain committed? Here are some suggestions that have proven effective for myself and other friends I asked:
First, forget what you've done in the past and focus on these three elements of exercise:
1. Show up. Once you show up, half of your battle is won. It's the getting out of bed, the getting to the location where the activity takes place that is the most difficult.
2. Get an accountability partner. Better yet, get two or three. There is nothing more effective than having someone hold you accountable for your workouts. More than likely, this person will encourage you too! (In the BGR! sisterhood world).
3. Enjoy your workout. View your workout as a new adventure. Looking at it from a fun perspective instead of drudging it, increases your interest and excitement. If you workout outside, the new adventure can include a new route. Make sure you note the scenery, the people you meet, etc. Our interest in something triggers the brain to want more of it.
It's not as difficult as it sounds. Start by forgetting the scale.
**Key point: Focus on your workouts, not your weight loss. You cannot predict how much weight you will lose. Additionally, statistics have shown that when you focus on your weight loss and have a set number of pounds you want to lose, you normally set yourself up for failure.
There are so many other glorious benefits to working out other than just what the numbers on the scale reflect.
**Bonus key point: Focus on what you can control. You can control the amount of time you put into your workouts. With this focus, you will reap the benefits over time.
So are you ready to kick-start your BGR! journey? Show up. It's that simple. Show up to a meet-up and allow your journey to begin. There will always be someone faster than you. There will always be someone more fit than you. There will always be someone with more stamina than you. There will also always be someone waiting for you to show up.
Go on, kick-start the new you, and enjoy your journey! You will not regret it.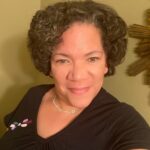 By: Eden Barbee-Mabry / (@gardenonthegram – IG/ @EdenJBe – Twitter)
Eden Barbee-Mabry is an Education Support Analyst with the State of Georgia. Eden is a native of Kalamazoo, Michigan and was led to relocate to Atlanta, Georgia after graduating from Clark Atlanta University in 1988. Eden joined Black Girls Run! in Spring of 2016 and graduated from the Walk B4 You Run program in June of 2016 and is currently Run Lead for the Fairburn, Georgia group. Eden is a purse lover and strives to inspire every woman because her belief is that although the circumstances may be different, every woman can extract strength from another woman's story.