Jul 8, 2021
Just Say Yes!
My New Year's resolution for 2020 was to take all the trips, run all the races and try all the new things. And for those first two months things were going according to plan, right down to paying early bird race fees to solidify my commitment and getting selected as an ambassador for a women's half marathon.
One remarkable weekend in February 2020 — which happened to be Super Bowl Sunday — seemed to be a sign of positive things to come. I ran a 5K in 30-degree weather and followed up the next day with a 5-miler in 60-degree weather. I celebrated with my running buddies after each race and have the smiling, happy pictures from that weekend to prove it.
Those seem like images from a time capsule now because we all know what happened shortly after that. Little did I know that February weekend would be the last time in a while I'd get to enjoy that feeling. COVID-19 shut the country down a month later, and so ended my personal year of saying yes.
(And so much for all those early race fees! Yes, the races were converted to virtuals, but it just wasn't the same.)
Understandably I was skeptical about 2021. This time I didn't sign up for anything. I made no plans. I decided to just sit back and see what happened, especially as the cold, dark winter days of January, February and March seemed like more of the same gloom and doom carried over from 2020.
As April approached, I saw that a marathon in Indiana had taken place without a hitch. A few local 5Ks announced they'd be taking place in person, but with staggered start times. I gingerly paid my fees, showed up and ran these altered races. In May, there were more races, and this time, all of us were able to line up at the start.
The days were getting longer and the sun was shining a little brighter. My running groups were meeting in person again and we even started talking about traveling for races. Could I try a redo of 2020?
So far, the answer has been a resounding yes. In two months, I've dropped three minutes from my 5K time just signing up for all the races. I've started running more trails and signed up to run a nighttime 10K on a trail (yes, I'll write all about it soon!). The idea of training for an ultramarathon has even crossed my mind.
Taking running vacations was also part of the 2020 plan that shifted to 2021. I want to do a half-marathon in a different city – fly or drive in on a Thursday, hang out at the race expo, eat a ton of pasta, sightsee and take in the city while running 13.1 miles. Traveling with my running group friends will make it even more special – girls' trip, anyone?
My year of saying yes will also be a family affair. In 2019, my oldest son ran his first race – a 1K. My younger son was too little to join then, but he was sad he couldn't run with his brother. I'd signed them both up for the same race in 2020 before it went virtual, but I'm eager to have them do it together this year. We kicked off our running season in June with a family 1-mile race, and hopefully there will be many more.
One morning in mid-June, not long after I ran a 5K, I met a few BGR! Cincinnati friends for brunch after they completed a 10K and a half marathon in Dayton. We smiled, we laughed and we talked about all our future running plans for the year. We were saying yes to everything.
Maybe, just maybe, we were getting back to normal.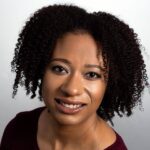 By Shannon Shelton Miller /Twitter: ShannonSMWrites, Instagram: shannon.shelton1
Shannon Shelton Miller is a longtime writer and journalist who enjoys writing about sports, fitness, health, beauty, and parenting. She has been running for 27 years, starting from joining her high school cross country team. She has run a marathon, two half marathons, and countless 5K and 10K races.