Apr 2, 2023
Introducing BGR! Sole Sista Team – Part 2
Meet Black Girls RUN! brand influencers, Sole Sista.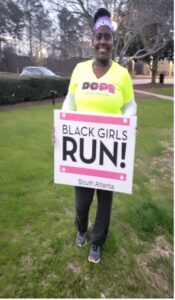 Meet Kimela Johnson
I am Kimela Johnson an educator and Georgia native that joined BGR in December of 2013. Becoming a member of BGR has help me to stay the course of being consistent in Self-Care. I have a nurturing spirit and enjoy taking care of not only family, but friends also by getting them out off the couch to take a walk with me from time to time. Being a part of BGR helps me to be more intentional about ME time and inspiring other women to do the same because I believe that your health is your wealth.   Shortly after joining BGR I began the Union City group run location which became official in late spring of 2014 and currently co-lead the Fairburn group run as well as the wellness ambassador at my school. Being selected to be on the Sole Sista team is an absolute honor and I look forward to inspiring  many more women to get moving and practice a healthy lifestyle.
#KeepItMoving #KIM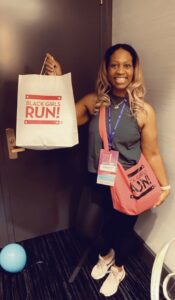 Meet Lelar Scott
Lelar Scott is a native of Houston, where she's a proud first responder, which is ironic because she deeply credits her committing to her run journey as saving her own life.
Lelar is a former ambassador and current run coordinator for BGR Houston.
Lelar's a 7-time marathon finisher and is affectionally known as The Head Doll about and around Houston. Running has given Lelar confidence that she refuses to hide. It has empowered her, given her presence and a voice. Lelar's run mission is to stand in the gap for ladies like her former self who are simply scared to move.
When she's not running, Lelar enjoys blogging/vlogging for Brunch Bougie & Banter, luxury shopping, motorcycling with her husband, etiquette training, and brunching.
She has two grown daughters and has been married for 25 years.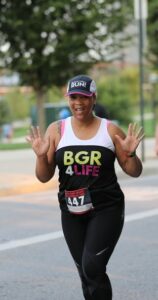 Meet Erica Darthard
Erica Darthard hails from Columbus, Ohio where she is a human resources analyst with the Ohio Department of Developmental Disabilities. She holds a paralegal degree and is currently pursuing her bachelor's degree in human resources management at Franklin University.
She has been a member of Black Girls Run Columbus since 2016. She completed her first half marathon (Nationwide Columbus Half Marathon) that same year. She loves interval running the most with her favorite distances being 5k and 10k. What she loves most about BGR is that we show that runners come in all ages, shapes, sizes, and speeds. If you run, you are a runner.
Erica loves Prince, basketball, Ohio State Football, and sneakers. She has one son, Sahmi, who is on the men's basketball team at Marietta College. She enjoys spending her free time traveling to support him and his team. Go Pios! Lol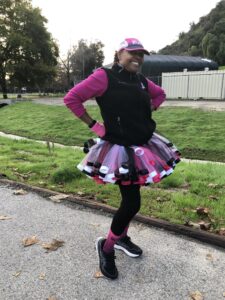 Meet Angel Williams Hackett
My name is Angel and I'm for California. Running comes natural for me. I feel like I've been running all my life. I ran in high school, college, and now after I hit my fiftieth birthday. I lost my mother from preventable diseases and dietary related illnesses. Now I run from diabetes, cancer, stress, depression, and any other problems that may arise. I put on a happy face, bring my positivity, and spread it to everyone I meet and encourage them to do better.  Every little step you take can make a huge difference in someone's day.  I run and I do it in style with my BGR gear and my custom tutus. Honestly, I'm fifty going on five and when I'm on the pavement all my cares are gone. I float and prance and have the best time with my running Sistas. This is certainly the sisterhood I've been searching for. I am delighted to be a part of this uplifting organization.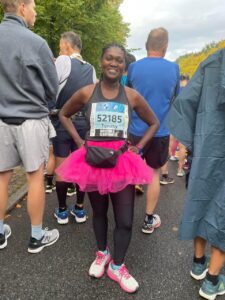 Meet Tammy Bradford
I exist to inspire and motivate others!
I'm a Midwest girl living on the west coast! I grew up in Columbia, MO and moved to San Diego, California August of 2018. I started running pre pandemic in order to get in shape. I learned about Black Girls Run at a charity run. I went to a Tuesday meet up on the bay and have been repping BGR ever since!! BGR meetups are a safe space for me to run and be active with women that look like me. BGR is a  sisterhood. The members inspire me to stay active and have talked me into way too many races including a marathon. I have ran at least 4 half marathons, 2 marathons and too many 5ks to count.
When I am not running, I enjoying hiking, traveling and spending time with my boyfriend and our dog. But I'm running most of the time!
I am proud to say I am a BGR run coordinator and host a sunset run every Thursday day! Come run with me!
Favorite color: pink
Favorite place to run: the beach
Favorite thing about running: the community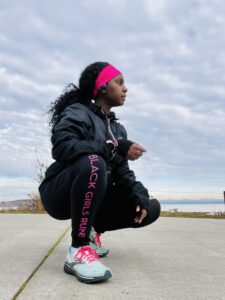 Meet Chelsea Tornga
I was born in Uganda, Africa, adopted and grew up in a family of 21 brothers and sisters from all over the world. After 15 1/2 years in Property Management, I'm currently running my Photography business.
I was never a runner. That was until I experienced a major surgery and a few blood transfusions years ago. After the procedure, I decided to make a change in my lifestyle. I initially started with walking, and then came across Black Girls Run on IG & in my city, Tacoma.
I was absolutely shocked to know that they were so many women of color, that looked like me out and being so active. Not only that, but they were having soo much fun doing it. After joining BGR Seattle-Tacoma, I eventually decided to give running a try. It was a challenge at first, but I eventually fell in love with it & the connection between other women in my city's BGR crew. Running has made me feel empowered and gives me a sense of confidence and accomplishment. It also helps me to manage my stress levels, gives me more energy. Now, I run on a regular basis and it has become a part of my weekly routine.
I'm a people person so I always look forward to group runs with my Seattle-Tacoma BGR crew.
Meet Melinda Johnson
My name is Melinda. I Love Everything BGR!  I've been a part of this community since 2014.  My goal is to find women that love and enjoy being a part of BGR Nation. I want to continue to encourage women to stay active and healthy. I'm so glad to be a part of such a great group!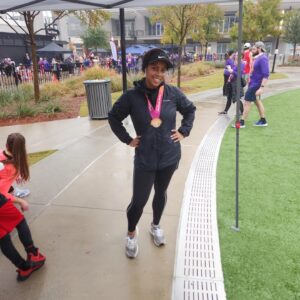 Meet Alexis Wainwright
Alexis Wainwright is an Emmy Award-winning journalist who recently moved to the Lone Star State. She is a proud HBCU graduate who loves to be out in the community.
Originally from Bowie, MD, Alexis has always been doing some type of athletics from growing up and playing basketball to cheering competitively through College. Alexis seriously picked up running in 2019 and ran her first marathon in November 2021. Now she enjoys running with a community in North Texas and running races.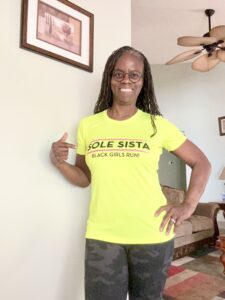 Meet Millie Anderson-Taylor
Hello. My name is Millie Anderson-Taylor. I retired back home to Charleston, SC in Jan. of 2023. I was introduced to BGR in February & joined 3/27/2013. After running my first 5K, I met so many amazing women & knew this is where I belong. Since joining BGR, I've participated in many 5K's, 10K's, & ½ marathons that I can't keep count. I ran my first marathon at 59 ½ years old and my second at 61 ½ years old. I've been an ambassador for BGR Charleston from 2016-2022 & I am ecstatic to represent them as a Brand Ambassador. Since the beginning, I've been recruiting & promoting this amazing group to everyone I meet in the many states I travel to. I will continue sharing the joy this group has given to me with others #solesistagbgr.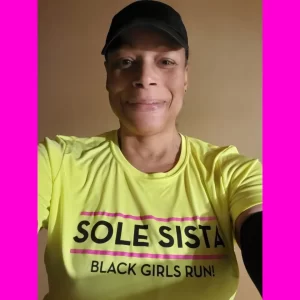 Meet Kimberly Hampton
Kimberly  Hampton, Age 53
Live in Oak Park, Michigan (just outside of Detroit)
Married with no children.
Member of BGR Detroit since 2013
I'm a runner and a walker. Currently doing more walking.
Enjoy volunteering with my church and Oak Park Youth Assistance.
Meeting my fellow BGR Detroit sisters at 5 am is the highlight of my day during the week. The fellowship is everything.
In addition to running & walking, I also enjoy strength training, biking, and swimming.  I look forward to completing a triathlon one day.
I am looking forward to this experience as a Sole Sista Ambassador!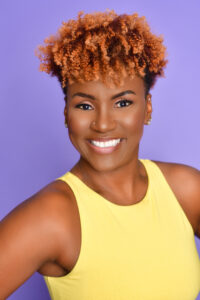 Meet Joy Packer
Joy is a mom, runner, triathlete, spartan & health coach. She is a graduate of Hampton University & received her MBA from Lynn University. Joy is an advocate for helping families get healthier and believes movement is medicine.
Joy has devoted her life to being the change that she wants to see.  She lives to mentor, inspire, guide & motivate others to achieve lifestyle changes. In her spare time, she enjoys running, swimming, cycling, hosting wellness parties, and sharing her journey to health with others. Joy believes nourishment, fitness & overall physical health makes lives better.  She's a wellness warrior on a mission!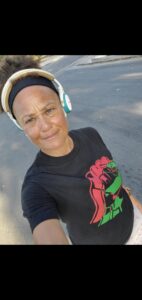 Meet Carlyn Couch
Every since I was 2 years old my parent new I was going be a runner. My dad was a 800 runner in high school and college and also a track and cross country coach.  Some may say I get it from my daddy. 
I was very shy as a kid and I use sports to connect with others and to help me come out of my shell.  I even started my own track team in elementary  school because I thought I was fast, lol.     
Since then running has been the friend who has always had my back.  It gave me the space and time to think when I needed to make life changing decisions. It also allowed me to destress when work takes me there.  Running has also given me the confidence  to do hard things.   
Running and I don't always seen eye to eye but I know running will always be there for me when I need. 
I enjoy introducing  new people to running in hopes that they can develop the kind of relation I have with it, so they too stay motivated  to always keep moving.