Nov 18, 2021
HOW TO EXERCISE WHILE RECOVERING FROM A FOOT INJURY
Last month, a freak accident during a trip to FL left a nasty open wound on top of my right foot between my second and third toes. It happened just two days into the month, two days after I left 50 miles on the pavement for BGR's September Sweat with Your Sole Challenge. The damage to my foot left me unable to walk, run, hike, bike, swim, or practice yoga for three weeks.
Injuries happen. While it might get you down (literally), the key is to not let it keep you down. Instead, take time to rest and recover so you can return to the thing you love to do. Here are five ways I stayed positive and active while recovering from my injury:
Be gentle with yourself. Allow yourself time to be mad, but don't stay there. I was beyond annoyed when I hurt my foot and pouted while sitting on the couch for the first few days. Then, after feeling like a pretzel from sitting for hours on end, I got up and decided to get moving.
Hit the gym! If you have a gym membership, you're good! Unfortunately, I let my gym membership lapse at the start of the shutdown last year, so I had to get creative and use what I had at home, which included my yoga mat, resistance bands, a set of 8-lb dumbbells, and a yoga strap. Oh, the things you can do with minimal equipment and a smartphone!
Take this time to do some dynamic stretching. New York's Hospital for Special Surgery (HSS) is a top-ranked hospital specializing in orthopedic surgery and is an authority in helping people recover from injuries. According to HSS, dynamic stretching improves speed, agility, and acceleration. This form of stretching involves the active tightening of your muscles and moving your joints through their full range of motion. Even with an injury to your foot like I experienced, there are a ton of options.
Practice your breathing. Almost three years into my running journey, I still struggle with controlling my breath. Diaphragmatic breathing or "belly breathing" is a technique that allows you to maximize your oxygen intake while you run. It works by engaging the diaphragm to create more space in your chest cavity, allowing your lungs to expand fully to take in more oxygen. This is not an easy skill and it takes practice to master.
Take it outside. I was going a little bonkers inside, so I took it outside. I was in a soft shoe but still able to drive, so I drove to a park nearby and would do a few sets of pushups, dips, and leg extensions to work my core, all while using a park bench. Finally, I was able to get in a bit of cardio and some fresh air into my lungs.
Even when one foot or other body part is immobilized, there's usually no reason you can't find different ways to stay active. Of course, it will take some creativity, flexibility, and patience, but it is possible. You got this!
Before you do any exercise after an injury, it's wise to consult with your physician or physical therapist if seeing one. Ask when you can resume activity, what type of movement is best for you, and how much.
See you out on the pavement, yoga mat, or gym!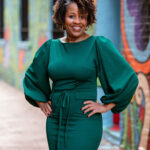 By: Danielle Barnes – @dannibsays (IG) @dannib413 (Twitter)
Danielle Barnes is a freelance writer based in Montclair, NJ. She earned a Bachelor of Arts degree in Public Relations from Wayne State University. Her superpower is her ability to captivate audiences with her words whether it's in person or on paper. Danielle enjoys devouring a good book, volunteering for causes she's passionate about, staying active, and traveling the globe to see the world in all its glory.