Jan 5, 2022
How do you define Success?
It's the time of the year where resolutions are being created, goals, aspirations for the new year. As you create these goals, resolutions, intentions for 2022. Ask yourself what defines Success? I was able to sit down the other day to read a great article titled: "Definition of Success". This article really had me thinking about the fitness journey and the overall journey of life. So, I began to think to myself and said you know what Felicia, "How do you define success?"
Immediately the thought of a race came to my mind. I thought about my first marathon. The picture below is of me after I completed my first marathon in Savannah, Georgia.
So let me ask you a question, "What do you see when you look at this picture?" You may see a woman who is excited, astounded, happy, relieved, goofy or even silly:) Well let me tell you what I see; I see a woman who fought through depression, an anxiety attack, sadness and low self-esteem. I also see a woman who is successful in that very moment. You might say how do you see this? Well, this brings me to my definition of success. On this special day, I didn't complete the marathon the way that I envisioned in my head. Also, I didn't get the best time or maintain the best pace that I wanted to. But in that very moment as I crossed the finish line, I began to rejoice over the fact that I not only completed my first marathon, but I fought through all the battles that had come before me during the race. So, as I reflected on this very moment, I defined this as success. I refused to give up even though everything from: depression, anxiety, frustration was on me during that race. I fought through the obstacles during my training runs and some ups and downs I had throughout my training. I used all these obstacles and failures as motivations throughout the race to help me finish the race. So, in my book this definitely defines success. I may have not completed the race the way I wanted to, but the ultimate success lies in the fact that I completed the race.
So, as yourself how do you define success? Often as women we set high standards for ourselves especially as it relates to fitness. We say okay in two weeks I need to be in a size X and if I am not then I am unsuccessful in achieving my goal. Let's stop being so hard on ourselves and celebrate the small victories. The ability to do some of the things that we can do is a blessing. When we put so much pressure on ourselves it staggers our fitness goals. Set small realistic goals, then once you have accomplished them celebrate your success in achieving them. If you fall off just dust yourself off and try again. Don't beat yourselves down for not making that race time, or keeping that ideal pace, ideal weight, or even completing the ideal race you wanted to achieve. Be thankful in the ability to do the things you can do. Remember, "Success in life comes when you simply refuse to give up, with goals so strong that obstacles, failure, and loss only act as motivation."
"Don't give up"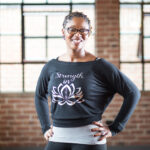 By: Felicia. R. Hall @feliciarhall
Felicia is an educator and motivator at heart. Felicia is a Certified Athletic Trainer, Corrective Exercise Specialist, Run & Fitness Coach, RYT 200 Yoga Instructor, Educator and a doctoral candidate. She is a small-town girl who loves running, nature and helping others become the best version of themselves.