Apr 27, 2021
Hey Girl! Why are You Running?
For me, running is as much of a springtime essential as sundresses, brunch on a patio and road trips. But it hasn't always been. My mom pushed me into running at an early age, and I joined a competitive, citywide running club, but racing always felt more like a chore than a choice. Ultimately, I didn't embrace it, and as soon as my mom gave me the chance to make my own decision, I quit and never looked back.
That feeling of discontent for running followed me all the way into my forties. I attempted taking up running again in my twenties because it seemed like the cool and health-conscious thing to do, but it never produced the passion or satisfaction for me that I sought. But, as fate would have it, I reunited and fell in love with running about six years ago when I was again looking for an outdoor activity that an introvert like me could do solo.
And, although I was apprehensive about giving running another go, I was a dedicated weekend warrior on a mission to stay active and just needed to incorporate an activity that would give me the occasional reprieve from my highly-social, interactive endeavors of road cycling and tennis. So, off I went, and my search led me to my first Black Girls RUN! meetup. I soon discovered that women who looked like me actually took running seriously and enjoyed it. They even ran during the week (and not just on weekends) and before work and after work and during their lunch hour.
I'm sure I was thinking, "ain't nobody got time or energy for that". I also discovered that they planned their lives and vacations around races and a thing called "runcations". Some of them actually ran 13.1 or 26.2 miles in the name of fitness and fun—yes, fun. I was again thinking "who are these people and what planet are they from?". But soon, I started running during the week and before work and during lunch; started planning my life and vacations around races and run destinations; and, started running half marathons. Who would have thunk? But I still thought that someone actually wanting to run a full marathon was mind-blowing and a bit crazy.
Running created a community for me that I didn't know I needed. It has added many gifts to my life, including friends, confidence and the freedom to just be me—my race, my pace, my space. And although running is a very personal journey, sharing it with others has allowed me to inspire and be inspired along the way. Running has truly changed the way I define self-care. As black women, we have the intense, innate sense of responsibility to take care of others and to work hard at our careers, while often sacrificing our physical, mental and emotional health. Running has truly become my number one self-care go to that I always carve time out to do, if only for a mile or two.
But being a runner is more than just self-care for me, it is a part of who I am. It is one of the labels that I embrace—just as wife, daughter, sister, friend, realtor, mentor and advocate are. One thing I've learned in life is that it's never too late to pursue a dream or live the life you want to live or become the person you are meant to be—or to take up and love running. I even completed my first full marathon last year. Whatever your run goals, there is a race, a pace or space waiting for you to discover it.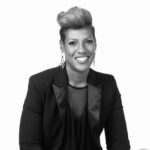 By: Joy Harrell /@joyrunsrealestate
Joy Harrell is a licensed real estate agent and co-owner of The Sift Sisters bakery based in Houston, Texas. She is a native Houstonian and graduate of the University of Houston—go Coogs! When she is not helping people buy, sell or invest in real estate, she can be found hanging or traveling with her hubby, running or biking the streets and trails in and around Houston, mentoring girls or testing new food and cocktail recipes.