Jun 29, 2021
Heads Up, Black Landmark Ahead
Last month marked the one year anniversary of the murder of George Floyd, and in the 12 months since this senseless act, there have been more than 200 additional killings of Black men, women and children by the hands of police across the nation, according to Newsweek and Mapping Police Violence. George Floyd's murder came on the heels of us already gasping for breath as we grappled with the details of the brutal and soul wrenching gunning down of Ahmaud Arbery and Breonna Taylor.
Additionally, with the slaying of Ahmaud Arbery, running once again intersected with a reckoning with race, forcing the Black community to take pause and face a reality that not even running while Black is safe. This truth, coupled with the ravages of the other pandemic, the coronavirus, has many of us still reeling and at a landmark moment, of sorts. Congruent with the anger that came with Ahmaud Arbery's death was fear—fear for the safety of our loved ones, fear of what it will seemingly forever mean to be Black in America: a target of bigotry, hate and even violence (and not just by police, but by self-appointed vigilantes as well) simply because of the color of our skin.
The response and resistance to social and racial injustice brought Black runners to seek out—even source—events aimed to further fortify runners through innovative, yet intentional ways that impact and shift our communities and country, collectively. As a result and as vision would have it, synergic run experiences were birthed, both locally and nationwide, that offer hope, refuge, a platform and protest and allowed us to channel our outrage into stance and action. One notable is the Freedmen's Town 5K/10K. Its purpose is to bring all cultures together through heightened connectedness, education, remembrance and celebration. And, Black Girls RUN! Houston took note. Ambassadors Kimberley Golden and Sylvia Jimerson organized the group, and we completed the route together in the name of awareness, solidarity, strength and change.
Freedmen's Town—Houston's Fourth Ward—was formed in 1865 by newly freed slaves and was the destination for former slaves from Texas and Louisiana after the Civil War. It became a social center, provided a community and gave access to education. Its landmarks—which are at the center of the race's route—tell its story, as they do in so many other neighborhoods throughout the nation. This race honors the memories and sacrifices of past generations that prospered during a period of segregation and civil rights oppression. It reminds us of what our ancestors endured, accomplished and instilled in us as a people and as survivors. It is one of many stories about how our past and present are significant and deeply rooted in the history of America.
Another such event is this month's eRACE Racism challenge, which is also designed for everyone, regardless of race and gender, to coalesce worldwide against discrimination, prejudice and racism and garner real change—change that starts with each of us individually.
Whether by choice or by circumstance, advancing the message of affirming our humanity, our contributions to society and our resilience in the face of deadly acts in tandem with the Black Lives Matter movement is a requirement and responsibility of us all.
If you are seeking to inspire, unify, educate, challenge or uplift your city through running, a few ideas you can implement include mapping out and sharing paths spotlighting Black-owned restaurants and other businesses; identifying street art by Black artists; tracing history through predominately and culturally Black neighborhoods; or teaming up with a friend (or stranger) and signing up for the eRACE Racism challenge and run, walk or hike your miles—as there is room for your voice and your vision on the pavement, too.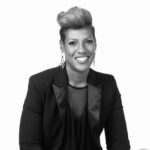 By: Joy Harrell @joyrunsrealestate
Joy Harrell is a licensed real estate agent and co-owner of The Sift Sisters bakery based in Houston, Texas. She is a native Houstonian and graduate of the University of Houston—go Coogs! When she is not helping people buy, sell or invest in real estate, she can be found hanging or traveling with her hubby, running or biking the streets and trails in and around Houston, mentoring girls or testing new food and cocktail recipes.