Jul 22, 2021
Happy Trails to Me
I'm a road racer. A road runner. My running happens on the streets, the sidewalks and maybe the occasional bike trail.
The last time I consistently ran on grass was during high school cross country practices and meets. The terrain was uneven and rocky, and I might have twisted an ankle on some rocks trying to run fast and watch where I was going at the same time. After high school, I said goodbye to the trails, hit the road and never looked back.
Until now.
Running around my neighborhood got old during the COVID-19 shutdowns, so I decided to go on a few hikes to switch things up. I'm lucky to live in a mid-sized city where a vast array of parks and hiking trails are just minutes away from my home, and I thought more time in nature would be the perfect antidote to the chaos of 2020.
I had never been an outdoorsy type, but my entire mood lifted walking on the trails. I hardly looked at my phone during my walks because the sights and sounds of nature were enough to keep my attention. I knew I was barely 15 minutes from home, but I felt like I was worlds away when I was on the trail. Even when I did get home, I couldn't believe how good I felt. Being on the trail was an instant mood booster, and I slept so well after each hike.
I began joining hiking groups on Meetup and Facebook, which led to Facebook suggesting other groups related to outdoor activity. One was a women's trail running group called Trail Sisters, and there was an active chapter in my town. I started running the trails with those ladies, an effort that proved to be a different type of running experience than my normal road runs.
First, I learned how to stop watching the clock. Yes, I still started my apps to track how long I ran, but I was no longer worried about my pace per mile. Trail miles will be slower than road miles, and that's because you're climbing hills, walking through creeks and maneuvering around mud. And you're walking quite a bit – walking is encouraged to help you keep your energy going up hills and your balance going downhill. The key is to stay on your feet.
It was so freeing to not be looking at my time. I was able to have conversations with other trail runners and pay attention to the sights and sounds around me. I also discovered that I liked doing long runs on trails versus roads, and it's nothing now for me to go out for six miles and not even realize it.
Second, I learned the importance of good foot care. If you're going to spend some time on the trails, you'll want to invest in trail shoes instead of just throwing on your running sneakers. Trail shoes are usually heavier to help you navigate rugged terrain and often have different tread patterns to help you deal with those rocks, mud, branches and other natural features you'll encounter. Socks designed for trail running will be made of different materials and have more cushion in certain areas to protect your feet against blisters. You'll be thankful when your feet get wet going through creeks, streams and other small bodies of water.
Third – my legs! My calves! My glutes! Walking or jogging up hills requires a whole different form of work and I FEEL my trail runs much more than I do my road runs. But I like the shape I'm getting in the process – it's a nice bonus!
Am I nervous sometimes about going in the woods and getting lost? Certainly, which is why I'm sticking with running in groups where I know some experienced trail runners will be. I also run trails where I know I'll see a reasonable number of people and I stick to daylight hours.
But I am taking another big step and running my first-ever trail race. I'm not worried about my time, I'm just looking to finish. Luckily I'll be with a large group of friends, and we're going to have fun, enjoy our surroundings and run at our own pace.
It's taken almost 30 years, but I finally appreciate that cross country experience.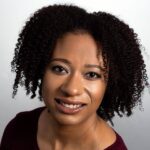 By Shannon Shelton Miller /Twitter: ShannonSMWrites, Instagram: shannon.shelton1
Shannon Shelton Miller is a longtime writer and journalist who enjoys writing about sports, fitness, health, beauty, and parenting. She has been running for 27 years, starting from joining her high school cross country team. She has run a marathon, two half marathons, and countless 5K and 10K races.