Apr 21, 2021
Hair Rules: Why My Hair Has Always Ruled My Life
My hair has ruled me my entire life. As the story of my hair goes, at the tender age of 3, my mom used scotch tape to fasten bows to my hair because my hair was too short for the bow to grab onto. As I grew, so did my hair. As a young girl, I went weekly to the beauty salon where Ms. Goldie would press and curl my hair. My sleek tresses would barely last until the following week's hair appointment. When I was 10, Ms. Goldie told my mom it was time for a Vigorol, a liquid hair relaxer that smelled like rotten eggs. It kept my hair straight, bouncing, and behaving for up to six weeks instead of a mere seven days.
In the decades since, I've done everything imaginable to my hair. I've had a Jheri curl (yep, I did) and countless traditional relaxers in varying formations. I've experimented with color using grape Kool-Aid, boxed hair color from the drugstore, and a concoction made of peroxide and lemon juice. I've rocked roller sets, spiral sets, crimped hair, flat twists, two-strand twists, microbraids, box braids, cornrows, and faux locs. I've had short bobs, medium bobs, and the lob. I've had professional highlights, lowlights, permanent color, semi-permanent color, demi-permanent color, and "just cover the grey" color. When I turned 40, I did the big chop only to go back to relaxing my hair nine months later. I would try to go natural again three years later in 2012. I didn't make it a full two months before going back to the "creamy crack." I quickly learned being natural took a lot of work, patience, and money; buying and trying different lotions, potions, and creams to find what worked for my hair. I was not ready to embrace the natural hair phenomenon. I still wanted to "Whip My Hair" as Willow Smith did in her 2010 music video and so I went back to where I was comfortable, where I could easily manipulate my hair without having to scour through YouTube or Pinterest for hours on end.
I have skipped out on Jesus, foregoing Sunday service, reneged on plans with friends, left in the middle of a double date one hot summer day after the guys broke out the water hose all in fun (insert eye roll here). This was not my idea of fun especially since I'd just gotten my hair done that morning. In my rearview mirror, I could see three mouths hanging open in astonishment as I sped off. I've ditched working out, going swimming, and once I even bowed out of a professional meeting with a powerhouse in the public relations industry, my industry, all because of my hair.
In 2019 I tried a new hairstylist for my 50th birthday. She suggested I go natural.  I balked, telling her about my two previous failed attempts at going natural. She assured me this time would be different. I don't know why but I believed her.
Fast forward exactly two years later, I've been completely natural for more than a year now and it's been almost two years since my last relaxer. I rule my hair now, not the other way around. I love my hair and all its kinks, coils, and textures. It's thick, long and most importantly, it's healthy. Taming my wild mane is a struggle sometimes but I stick with what works best for me and my lifestyle. So, are you ruling your hair or is your hair ruling you?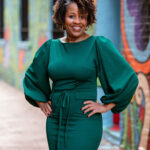 By: Danielle Barnes – @dannibsays (IG) @dannib413 (Twitter)
Danielle Barnes is a freelance writer based in Montclair, NJ. She earned a Bachelor of Arts degree in Public Relations from Wayne State University. Her superpower is her ability to captivate audiences with her words whether it's in person or on paper. Danielle enjoys devouring a good book, volunteering for causes she's passionate about, staying active and traveling the globe to see the world in all its glory.