Dec 7, 2022
Glow on the Go: Ultima Beauty Collagen + Electrolytes
Ultima, the creatives behind the clean, hydrating performance drink and water enhancer, Ultima Replenisher, has launched its next innovation: Ultima Beauty Collagen + Electrolytes. Ultima Beauty Collagen + Electrolytes elevates your inner and outer glows by keeping your body hydrated and helping your hair, skin, and nails illuminate.
This collagen beauty concoction is a sugar-free drink that contains an electrolyte mix with added grass-fed (bovine) collagen—a key peptide to help support supple, more elastic skin. Each serving comes in a convenient stick pack for glow on the go and contains a broad spectrum of electrolytes, trace minerals, vitamin C and zinc to hydrate the skin, plus 9.5 grams of Type I & III collagen to help strengthen hair, skin, and nails.
Ultima, the Ultimate Game Changer. Ultima has spent more than 25 years taking electrolyte hydration to an unrivaled level using natural Stevia leaf and plant-based colors and flavors. With ultimate hydration being at the core, their products also boast being non-GMO, gluten-free, and keto-friendly with absolutely no sugar, calories, or carbs—allowing you to stay hydrated without added sugar, artificial sweeteners, flavors, or dyes.
The Hype about Hydration. Ultima Beauty Collagen + Electrolytes and Ultima Replenisher are advanced, yet balanced drinks fortified with six electrolytes—calcium, chloride, magnesium, phosphorous, potassium, and sodium. Why not keep it pure and simple with just water? Well, water alone doesn't deliver. We need electrolytes to replenish mandatory minerals. It can be difficult to ensure we're getting enough water and sustenance each day for proper hydration. Depletion means our bodies and our brains don't have enough fluids to operate optimally. Proper hydration is paramount for good health, happiness and for handling all of life's adventures.
Collagen, the Ultimate Beauty Booster. Collagen and optimal health have a long history. Collagen is a protein responsible for healthy joints and skin elasticity; it is in our bones, muscles, and blood, comprising three-quarters of our skin and a third of the protein in our bodies. It is the ultimate beauty booster and supports and promotes healthy hair, skin, and nails. How we look on the outside is often a direct reflection of how we treat and what we feed our bodies on the inside. And as we age, our existing collagen breaks down, and it gets harder for our bodies to produce more, making a daily supplement such as Ultima Beauty Collagen + Electrolytes a vital addition to any daily health regimen.
Ultima Beauty Collagen + Electrolytes is offered in single-serving stick packs in two delicious, creatively fused flavors: Mango Pineapple and Strawberry Kiwi. Gift yourself, family, and friends with glow and hydration happiness this holiday season and beyond. Order online at https://www.ultimareplenisher.com/collections/beauty.
When you hydrate and luminate with Ultima, you give to yourself, and you give to others. Your support is paid forward, and your purchase has the power to make a positive impact. Ultima will donate 1% of your purchase to the cause of your choice at no extra cost to you—choose between The Clean Water Foundation, Feeding America, National Breast Cancer Foundation or One Tree Planted.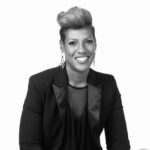 By: Joy Harrell @joyrunsrealestate
Joy Harrell is a licensed real estate agent and co-owner of The Sift Sisters bakery based in Houston, Texas. She is a native Houstonian and graduate of the University of Houston—go Coogs! When she is not helping people buy, sell or invest in real estate, she can be found hanging or traveling with her hubby, running or biking the streets and trails in and around Houston, mentoring girls or testing new food and cocktail recipes.