Sep 16, 2021
Girl, Go Be Great!
Last month, as many of us frequently checked the news apps on our phones, tuned into our streaming services via our TVs and polled family and friends for updates on the Tokyo 2020 Olympics—held one year behind schedule courtesy of Covid—we can't help but to still be in awe, forever inspired and filled with pride by all the Black Girl Magic that dominated the tracks, fields, arenas, courts and news headlines.
From swimmer Simone Manuel, shot putter Raven Saunders and basketball star A'ja Wilson to history makers Tamyra Mensah-Stock who is the first Black woman to win wrestling gold, Ashleigh Johnson who is the first Black woman to make the U.S. Olympic water polo team, Allyson Felix who is the most decorated American Olympian in track and field, ever, and Simone Biles who is the winningest gymnast in history, period—they all went home with the bling.
Seeing their gameness, grit and strong grip on who they are, their tasks at hand and the medals at stake—against the odds, in the midst of unjust judgement and during an ever-surging global pandemic—gives me pause and makes the excuses I conjure up for not doing my best or being my best self every single day seem trivial and absolutely uncalled for.
So yeah, this read is all about paying homage to these baddies and to all Black female athletes—elite, beginners and everyone in between. But it is also about offering perspective to anyone of us about mindset, faith, achieving goals and stepping into who we are destined to be. Not in the spirit of comparing ourselves to others and their individual and unique journeys, gifts and accomplishments, but in the sense of checking ourselves, our attitudes, our intentions and our actions, which is always apropos and absolutely called for every single day.
As we continue to celebrate the greatness of these ladies, don't forget to celebrate and elevate the greatness in you, all you have accomplished and all you have yet to. Take this time to reflect on who you are, who you want to be and what one thing you will start doing today to make it happen for yourself. What is that one thing that can provide you with peace, happiness, freedom or security in life and in business? For me, it's CHOICES. Everything hinges on the choices I make (and the ones I fail to make). ALL of them, from what I choose to eat, whether I workout and what time I get out of bed in the morning to what tables I sit at, what doors I walk through and how I show up in life every single day.
Either you will let your faith and effort guide you or you will let your fear and excuses stop you. But, you get to choose. You get to choose how you continue to grow, continue to set and crush goals and continue to step into your own greatness.
I'll leave you with one of my favorite quotes, "It's choice, not chance, that determines your destiny."—Jean Nidetch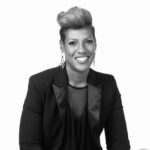 By: Joy Harrell @joyrunsrealestate
Joy Harrell is a licensed real estate agent and co-owner of The Sift Sisters bakery based in Houston, Texas. She is a native Houstonian and graduate of the University of Houston—go Coogs! When she is not helping people buy, sell or invest in real estate, she can be found hanging or traveling with her hubby, running or biking the streets and trails in and around Houston, mentoring girls or testing new food and cocktail recipes.