Feb 8, 2023
Frosty Fun
I used to hate the cold. Honestly, most times I still would prefer to stay inside my warm and toasty house when it's below 32 degrees. When you live up North in the Midwest, however, managing cold weather is a way of life. Other than about five years living in Florida, I've spent four decades navigating the chill of winter, so I'm used to it.
Until recently, surviving the cold did NOT mean running outside for me. No, ma'am, cold weather meant it was time to just hang out on the treadmill or cross-train because there was no way I was going to hit the pavement when it was freezing.
"We" didn't do that, if you catch my (snow) drift.
Why then, was my BGR group hosting runs in December, January, and February, and signing up for events with foreboding names like the Frozen 5K or the Frostbite 5? And why was I suddenly intrigued?
I'll try anything once, so I bought a winter running jacket, donned a knit cap, pulled on a pair of gloves, and wore my warmest leggings and tall socks for my first "frozen" run. Thousands of people showed up – including a few in shorts and T-shirts – and while we were all shivering, as soon as the race started, my body temperature warmed up quickly. In fact, I recorded some of my best times at these cold-weather races because I was moving so much to stay warm.
The "frostbite" race was the next day, and while it was unseasonably warm for February in Ohio (think the mid-50s), I was still prepared for the cold. I felt even more accomplished that I ended a February weekend with back-to-back races and could say I was so committed to running that I braved harsh temperatures to get my miles in.
The next year, I decided to take my cold weather running to the next level and run on trails. Let me tell you, I have never felt closer to God than I did when I was completing a midday run on a snow-covered trail in 25-degree weather. With no leaves on the trees, I could look up past the canopy of branches to see a beautiful sky while listening to the wind gently whistling through the trees or water rushing through a creek. Animal tracks were visible on the stark white pathways and the cold air felt so pure and refreshing.
I could always appreciate the beauty of fall colors, spring blossoms, and summer in full bloom while on the trail, but winter felt just magical and almost unreal– like a wonderland.
Winter is often considered a throwaway season for our fitness goals, especially considering phrases like "summer bodies are made in winter" or "winter training equals summer success." That might be true, but I now appreciate winter for the unique running season it is.
There's no need for speed, lest you slip on snow or ice, but it's a time to move more thoughtfully. February can also be a difficult time, as the restrictions of winter have been a constant for at least two months, so running with intention this month can help break up the monotony and provide a bit of joy that can be lacking this time of year.
This February, I've got a Frozen 10K, a Frostbite 5 miler, and maybe a Frosty 14-mile trail run on my calendar. February might be freezing, but I'm eager now to be left out in the cold.
Will you give running or walking in the cold a try this month?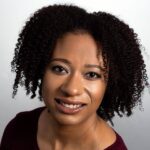 By Shannon Shelton Miller /Twitter: ShannonSMWrites, Instagram: shannon.shelton1
Shannon Shelton Miller is a longtime writer and journalist who enjoys writing about sports, fitness, health, beauty, and parenting. She has been running for 27 years, starting from joining her high school cross country team. She has run a marathon, two half marathons, and countless 5K and 10K races.