Jun 24, 2021
Foot Care is Self-Care
Foot care is self care. We put so much stress and pressure on our feet as they carry us through our everyday lives, prop us up as we train for races and propel us across finish lines. And, as summer approaches, the world continues to reopen and we begin navigating the precarious nature of attending social engagements, as well as subject our feet to flip flops, heels or no shoes at all, we must remember that regular foot maintenance is more than just about having pretty feet, it is a vital part of our overall health. So just how should we be taking care of our feet? How we attend to our feet can be as personalized as our preferences for self care itself, but there are a few universal things that can help us all achieve healthy, happy feet.
Clean, Soak, Buff and Moisturize
Clean feet is the bedrock of healthy feet. Soaking your feet (at any temperature) removes dead skin and the dirt, grime and bacteria left behind from your shoes and socks, and it can improve your mood and make your entire body feel better. Furthermore, gently slough off dry skin and calluses with a pumice stone or foot file. Work the pumice in only one direction to avoid over doing it, which can yield soreness or infection at the sight or irritate the fresh skin underneath. Before getting into bed, put an old pair of socks on well-moisturized heels and callused areas to lock in the moisture and improve the texture and appearance of your skin.
Groom Toenails Carefully
Grooming your toenails goes beyond the aesthetic aspect. Keeping nails short mitigates bruising or detriment to toes resulting from excessive pressure put on your nail beds when running or wearing tight shoes or heels. When grooming toenails, cut and file them straight across (never rounded or at an angle) to avert ingrown toenails as your nails grow back out and to ward off susceptibility to fungus. Tea tree oil is a natural nail fungus fighter, so add it to your favorite oil or moisturizer and apply. Enlist the services of a professional pedicurist bi-monthly, or monthly at a minimum, if you need help keeping your toes well-kempt. Warning: If you do get an ingrown toenail, please don't attempt to fix it yourself. See a podiatrist to prevent making it worse!
Ensure Proper Fit of Your (Running) Shoes 
I learned the hard way that we should put function before fashion when searching for the perfect run shoe. A study conducted by the Journal of Foot and Ankle Research found that more than 60 percent of us wear shoes that are not designed for our feet. Besides size, consider whether the shape of a shoe is a good fit to the shape of your foot. Getting a professional fitting, especially when purchasing running shoes, is highly recommended. Wearing ill-fitted shoes—beyond causing obvious pain—can lead to loss of your toenails, to permanent damage (such as hammer toe), to lasting negative affects on your posture, gait and balance and to pang and injury to your back, hips, knees and ankles, in addition to your toes and feet.
Our foot care routines should be sustained year-round for optimal health and not just when we're ready to debut a new pair of sandals or peep toe pumps. A consistent, mindful regimen allows us to always put our best foot forward, literally.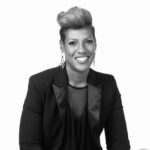 By: Joy Harrell @joyrunsrealestate
Joy Harrell is a licensed real estate agent and co-owner of The Sift Sisters bakery based in Houston, Texas. She is a native Houstonian and graduate of the University of Houston—go Coogs! When she is not helping people buy, sell or invest in real estate, she can be found hanging or traveling with her hubby, running or biking the streets and trails in and around Houston, mentoring girls or testing new food and cocktail recipes.