Nov 21, 2023
Team Black Girls RUN! x Chicago 2024
Black Girls RUN! is excited to be the official charity for the 2024 Bank of America Chicago Marathon on Sunday, October 13, 2024. We have chosen five amazing women to receive our charity bibs for next year's marathon. #TeamBlackGirlsRUN Please meet these amazing women, support them in their fundraising efforts, and follow them on their journey to the finish line!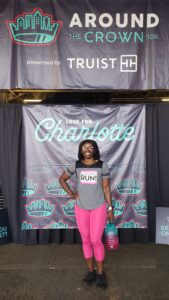 Brendetta Caldwell
Hi! My name is Brendetta Caldwell, and I am 44 years young. I reside in Fort Mill, SC (Hometown Lancaster, SC). I am the proud mother of 2 awesome grown people. Our life is centered around Peace and Love.
There was a time where I weighed 200lbs+. I decided to break the generational curse of being overweight. I started working out in 2004. Running was NOT part of my fitness. In 2012 I came across a group of women that looked like me running in Charlotte, NC. From that day forward I have been on the pavement with Black Girls RUN! (BGR!). My current position is a BGR! Run Coordinator. Running not only helps me physically but also mentally. It has brought so many wonderful people and adventures into my life as well as given me the confidence and courage to do other things I never would have imagined.
I applied for the Chicago Marathon for the first time ever in 2020, and I was accepted. Little did I know C19 would ruin it for everyone, and the race was canceled. So here I am trying to accomplish this goal again. This time going back to where I started and supporting my foundation: BLACK GIRLS RUN!.
I have completed 3 marathons (#4 in Dec 2023), numerous half marathons (my specialty), multiple 5ks -15ks, 2 triathlons (learned to swim), and 10 Spartans (3 trifectas). I am an international runner which has expanded my travel life. 
Facebook: https://www.facebook.com/brendettal.caldwell.5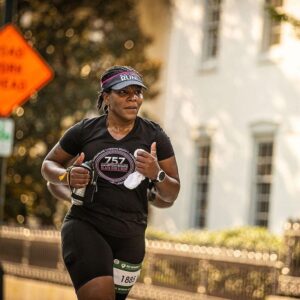 Saundra Johnson
My love of God and family is my top priority.  Besides running, I have a passion for all things community service and spend a lot of time advocating for victims of sexual assault and domestic violence.
A running guru and extraordinaire I am not, but I have learned that even through the ebbs and flows, love and hate of running, I truly am enjoying the journey.  My love for running started in 2013 when I relocated to the Hampton Roads area of Virginia.  I joined Black Girls RUN! Hampton Roads in 2015 after observing from afar.  Yes, 2 years of observing before my first 3 miles and 5am Thursday morning group run in Suffolk, VA.  Prior to that, my only long-distance running came as an Army requirement or as part of a cardio regimen during my shotput and discus days in high school and college.  
A native of Harrisburg, Pennsylvania, an Army Veteran and the very proud mother of 2 amazing adult children: a son who is a 2 time Gatorade award winner for track and field (2009 & 2010) for the state of Maryland, a division 1 college football athlete and 2014 graduate of James Madison University; and a daughter who is a rock star cheer guru, coach, the founder of a collegiate stomp and shake cheer team and a 2022 graduate of Old Dominion University. I hold a BA in Spanish from Shepherd University and a MA in Humanities from Old Dominion University.  In my full time career, I am the Talent Acquisition Manager for Titan America. 
Through the years I learned a few things about my own run journey (because no 2 journeys are the same). Embrace the fellowships, I am my only component, running shoes should be retired after too many miles, giving my body rest is a requirement, embrace the small wins, everyone who finishes the race will get a medal, and  remember to make sure that my form looks good for the camera.  With several races under my belt from 5ks to half marathons, the Chicago Marathon will be my first full marathon, and I am eager for this new journey and lifetime experience.
IG: https://www.instagram.com/sauny869
Facebook: https://www.facebook.com/saundra.harvey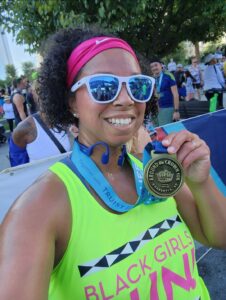 Jenna Lowery
I'm Jenna Lowery, born and raised in Jersey, but repping BGR! Charlotte. I have been an active member of BGR! since about 2017, and I currently represent as a Run Coordinator and an Ambassador for BGR! Charlotte. As an athlete growing up playing soccer, softball, and track & field, I have always maintained my push for competition and being physically active. I have found such a love for running as an adult not only to be healthy (physically and mentally) and a good example for younger girls, but also to challenge myself along the way. I have enjoyed being a coach and role model with the Girls on the Run organization for the past 3 seasons to encourage the next generation of girls to make healthy choices (physically and mentally) and to live an active lifestyle. I don't do many official races because my family stays busy, but I enjoy pushing myself in pace or distance, and recently I've enjoyed learning to not push myself and use my pavement time more therapeutically. 
Outside of the pavement, I enjoy spending time with my family being out and about and also being at home. I love watching my daughter's love for sports grow. I love my career working as a pediatric occupational therapist! It is so therapeutic and rewarding to me to see my kiddos make big and small gains and celebrate them along the way. They could have so many obstacles in their way, but they continue to grow and flourish and defy the limitations that individuals have put on them.
In all areas of my life I hold tight to a few common themes: To lead by example, remember that iron sharpens iron, and that someone else's destiny is dependent on you living out your God given purpose. BGR! is truly a piece of my heart and passion that also aligns with these themes. I am truly honored to have been selected as a BGR! representative and raise money towards the charity in the Chicago Marathon 2024!! 
IG: https://www.instagram.com/Kylasmom914
Facebook: https://www.facebook.com/jenna.anderson.334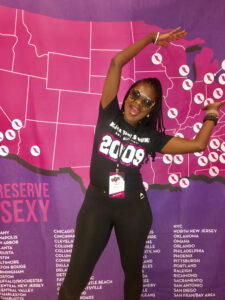 Maria B. Stanfield
"Overjoyed is a great description on how I feel to be able to run at this juncture in my life." 
Maria B. Stanfield is one of a very small number of runners who continues to run in spite of having a prosthetic hip and multiple bone mobility diagnosis. She gives credit to her ability to continue to run to her relationship with God and mental toughness. Maria is a mother of two adult children Warren III and Anita and married for over twenty-seven years to Warren Stanfield Jr.
She is a passionate servant leader who is a clinical psychologist, member of Alpha Kappa Alpha Sorority, Incorporated, and an advocate for multiple social justice issues including health equity, civil rights, and equality for all. Her goal is always to speak to the plight and needs of the least of these and never to forget her humble beginnings as they have served to help develop her into who she is today. This will be Maria's first marathon and her goal is to do one thing: Finish. She is a proud native Detroiter, board member of Black Girls RUN! Jr. and ambassador for Black Girls RUN! Detroit.
IG: https://www.instagram.com/my_sisters_keypers
Facebook: https://www.facebook.com/profile.php?id=100070193674963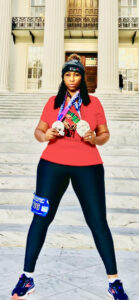 Lisa Wells
Lisa is originally from Los Angeles, CA. After raising two sons and successfully getting them to college, she accepted a position in Houston,Texas. During the pandemic, she discovered her passion for running and was introduced to Black Girls RUN! She was invited to be a run coordinator within a few months and soon after she was encouraged to become an ambassador. During this time, Lisa had been responsible for many of the community partnerships, creative events, and run series. 
In 2022, Lisa was featured by ABC13 as she prepared for the Aramco Half Marathon and ran it in her late mother's honor who passed away at age 50 from lymphoma. The segment also highlighted Lisa's diagnosis with multiple sclerosis and how she has been determined not to allow that to stop her. Lisa believes that running has helped to combat some of the symptoms. With five half marathons and by the time you're reading this one full marathon under her belt, Lisa is extremely excited about representing BGR! Foundation in Chicago. 
Lisa will be running in honor of her two sons, Jonathan and Jordan Kilson, and her one and only grandson, Kairo, who is two years old. 
Facebook: https://www.facebook.com/lisa.kilson