Oct 14, 2021
Are You Ready?
I don't know about you, but this is my favorite time of the year. The leaves are changing, the crisp in the air, the breeze on your face. It's the time of the year where runners get relief in cooler temperatures especially after a hot and humid summer. Of course, as the temperature gets cooler it's time to dig in those closets and get new gear out. As a new runner, running in cooler temperatures can seem a little daunting and send you to the treadmill. Follow these key guidelines to help you prepare for cooler temps and for the winter season.
Your Body Heats Up
As you continue to run your body will heat up; don't over bundle yourself. When you over bundle yourself; this could result in overheating. It's important to layer properly to help regulate your body temperature. In layering properly this will help to prevent cold related illnesses such as hypothermia.
After the Run
One of biggest mistakes that runners make is not having the essentials you need for after the run. Once you finish a run your body is wet and your clothes may be wet. Make sure to have clean dry clothes to put on immediately. In addition, make sure you bundle up after a run. Your body quickly cools after a run so packing a jacket, long sleeves in your car will help you get bundled up after completing your run.
Running Essentials
It's important to have the proper running essentials when running in cooler temps. Here are some suggestions of running essentials to have during the cold season.
Running headband or hat
Running pants (dry wick or tech)
Gloves and mittens
Running socks (dry wick or tech)
Windbreaker Running Jacket
Running Vest
Long Sleeve (dry wick or tech)
Prepare
As the season changes it's important to prepare for your runs. Check the forecast prior to planning your runs for the week. Also prepare your outfits for your runs. This will allow you to be prepared and not caught off guard when heading out for a run. Rule of thumb for runs is to always add 10-20 degrees to whatever the temperature is during the time you will be running. This helps to account for your running temperature. As you are running your body will build heat however, your body temperature will depend on the length of your run. For the shorter runs you want to add about 10 degrees and for the longer runs you want to add close to 20 degrees to the outside temperature. For example, if it is 40 degrees outside your body will be around 50-60 degrees while running. When you're not prepared you may forget some key and important items. Pack extra clothes in your car for the "uh oh" days you go for a run and it's cooler than what you imagine it to be. Also, it's important to always pack extra clothes in the car for you to change into after a run.
Running in cooler temps can be a relief and can be exciting if you are well prepared. Make sure you don't get caught off guard this Fall and Winter season.
Happy Cool Temperature Running!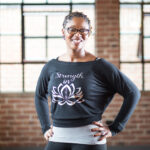 By: Felicia. R. Hall @feliciarhall
Felicia is an educator and motivator at heart. Felicia is a Certified Athletic Trainer, Corrective Exercise Specialist, Run & Fitness Coach, RYT 200 Yoga Instructor, Educator and a doctoral candidate. She is a small-town girl who loves running, nature and helping others become the best version of themselves.