Dec 14, 2022
All I Want for Christmas is a PR…
Okay, so to set a new personal record (PR) is not all I want for Christmas, but it is pretty high on the list. I have been running the same half marathon (in terms of pace) for the last seven years! And I too want that thrill of victory that comes with beating your personal best. And it is long overdue, wouldn't you say. But to achieve something different, we must do something different, right? So, in the spirit of doing just that, I've taken stock of where I am versus where I want to be and have honed in on a few things I need to execute and improve upon. Following are a few tips we all can implement:
Go hard or go home. Sometimes, you never know what you can do until you actually do it. But, if you continue to play it safe and hover in your comfort zone, that's where you'll stay. There is something to be said about setting a goal and pushing yourself to achieve it. And how do we achieve most goals—through consistency and action. A consistent running regimen will allow you to build endurance and speed gradually and naturally. So, set your alarm, find an accountability partner and go hit the pavement. Having trouble fitting training into your schedule? Try rising an hour earlier, staying up a little later or lacing up during lunchtime—make space for what's important to you. Also, incorporating high-intensity interval training (HIIT) or practicing plyometrics is one of the fastest ways to boost your stamina.
Go heavy on the weights. Time on your feet is a must when training for a race, but if your body can't sustain you when your mind wants to quit, you are facing an uphill battle, literally. Going 'heavy' on the weights doesn't mean you should start lifting like a competitive bodybuilder, it means don't skip or skimp on strength training. Strength workouts should be a part of your training routine regardless of whether you're an experienced or beginner runner, or somewhere in between. Focused strength training also improves your form which aids in efficiency on the pavement, helps prevent injuries and facilitates faster muscle recovery.
Trade up. Running can be a relatively inexpensive activity (compared to other sports). But to upgrade your run game, you may need to upgrade your gear and your gadgets. Upgrading doesn't necessary mean breaking the bank. There are viable options available for most budgets. Research has shown that technology in specific running shoes allows athletes to run faster without having to increase the intensity of their runs. Enlisting the help of an expert at your local sports store can be invaluable to selecting the right running shoes. It is also imperative that you track your runs and thus, your progress. How will you know where you're going or how much you've improved if you don't know where you started or are currently?
One of the biggest takeaways here is that having a strategy is the key to success. You know the adage: if you fail to plan, you plan to fail. So, remember, success without proper planning and preparation is often luck, and luck is not a sustainable strategy. But also remember and say it with me: "if it is to be, it is up to me," as with most things in life. My next half marathon is next month. I'll keep you posted on my progress with finally focusing on conquering that elusive PR!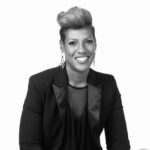 By: Joy Harrell @joyrunsrealestate
Joy Harrell is a licensed real estate agent and co-owner of The Sift Sisters bakery based in Houston, Texas. She is a native Houstonian and graduate of the University of Houston—go Coogs! When she is not helping people buy, sell or invest in real estate, she can be found hanging or traveling with her hubby, running or biking the streets and trails in and around Houston, mentoring girls or testing new food and cocktail recipes.