May 25, 2021
A Little Help From My Friends
Running is considered an individual sport, but I enjoy it most with friends.
Many Black Girls Run! members probably feel the same way. The ladies in BGR! were often the ones who encouraged us to run that first 5K, cheered us on at the end of the marathon or hung back to wait for us when we were the last ones to finish the course during a meetup.
When we wanted to quit, our running buddies were there.
I know that just having a group run on the calendar makes me more motivated to get out there and get it done, and I never regret it in the end. Meanwhile, I can come up with hundreds of excuses to NOT run if I'm doing it solo.
As much as I missed road racing last year when everything was canceled because of COVID-19 restrictions, I realize now that I missed running with friends even more. Let's talk about some of the benefits of running with a group.
Making new friends. Whenever I moved to a new area – which I did multiple times for college or for work – I had to work to build a social circle. As one who wasn't into the club/happy hour/First Friday scene, I thought it would be more productive for me to join a group based around a hobby I enjoyed.Thanks to my running groups, I had a guaranteed meet up with some great people every weekend. Many times, we grabbed brunch after completing our long runs and met up for non-running activities. To this day, some of my best friends are people I met in running groups.
Iron sharpens iron. One common experience I saw in every running group was improved performance among all members. Women who "hated running" now were enjoying it. Others who "never ran fast" were suddenly setting PRs with every workout or race. They moved more quickly, lost weight and were just healthier overall.Research shows that your performance can get better if you run with a group. I witnessed this a few weeks ago when I joined a group of women – who tended to be on the speedier side – for a morning long run. They were kind enough to adjust their pace to ensure I could keep up but were still going faster than I was used to. At the end of the run, not only had I gone almost a mile longer than I had intended, I had run at a pace unthinkable for me for a nonstop 5-mile run. I'm eager to join them again one weekend!
You'll sign up for races. Call it peer pressure, but for some reason, I didn't want to feel left out when all my friends said they were signing up for a 5K, 10K, 15K, half-marathon or marathon. Sure, running 26.2 miles is no big deal! All I have to do is just train for a few months with my buddies, right?Soon, I was signing on the dotted line and forking over my $ for races – both local events and for ones outside my area. Knowing that we were all working together toward the same goal made it seem much more doable and having friends there before and after the race was infinitely more fun than doing it alone.

The easiest way to find a running group is to search for a BGR! chapter near you. If you're not near one, your local running store likely organizes regular group runs. An internet search for running groups in your town could pull up many options as well – women's only-groups, mom groups, marathon training groups, LGBTQ+ groups and more. I run with multiple groups depending on what works best for my schedule and where I happen to be that day (work vs. home)
Running is awesome, but sometimes, we all need a little help from our friends.
Tell us about your experience with group runs!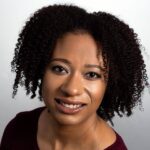 By Shannon Shelton Miller /Twitter: ShannonSMWrites, Instagram: shannon.shelton1
Shannon Shelton Miller is a longtime writer and journalist who enjoys writing about sports, fitness, health, beauty, and parenting. She has been running for 27 years, starting from joining her high school cross country team. She has run a marathon, two half marathons, and countless 5K and 10K races.