Jun 20, 2021
A Father's Day Tribute From Daddy's Little Girl
In April, I saw my father for the first time in 19 months. The longest I've gone without seeing my dad was a few months. This separation, brought on by the pandemic, was five months shy of two years. It still seems so surreal. So many people have lost a parent or both parents during the past year. I'm so grateful and so blessed to still have my father and my mother too. So, on this Father's Day, daddy's little girl wants to give her father his flowers now while he can still enjoy them.
My father left New Jersey for Florida in 2005 and he's been living his best life there ever since. We usually see each other a few times a year; he comes here, I'll go there, and we will travel somewhere together. I was visiting him when I saw him last in September 2019. It was on the heels, literally of me starting my running journey.  Determined, I set out in the scorching Florida heat for my runs. My dad, being the supportive father he always is, decided to join me. I stretched, set my watch and motioned forward along the pavement parallel to the Atlantic Ocean. I turned back to make sure he was okay. Walking briskly behind me, he was laser focused but I could see he was smiling and beaming with pride. During my visit he surprised me with a new running hat, tank and running shorts. He couldn't contain his excitement as he pulled each item out of the bag. He also snagged himself a new pair of bright red running shoes. Thank God because his old pair were bursting at the seams, literally. He said I inspired him. Now, it was me who was beaming with pride.
Six months later, the world came to a screeching halt. Like everyone else, we thought in a few months' time, the pandemic would be over, and we would be traveling once again. In the meantime, we vowed to stay home, healthy and safe. We texted, talked on the phone often and when he was up for the tech challenge, got to lay eyes on each other via video chats. I kept him updated on my running by sharing little milestones with him to which he would respond, "You go baby!" or "My baby is a runner!" At the height of the pandemic, he had a milestone of his own when he celebrated his 80th birthday last May. I desperately wanted to be with him on his birthday but when the numbers in Florida started to spike out of control, we both thought it would be best if we just waited it out.
And so, we did just that until we met in Costa Rica in April. He was ready to get out of Florida and I was ready to get out of New Jersey. Mid-flight I began to cry in anticipation of seeing my father. The realization that this might not have been was overwhelming. In the baggage claim area, I recognized him feet first, by those bright red running shoes. They looked as new as the day he bought them 19 months ago. I ran over to him, threw my hands around his neck and I hugged him long and tight. I was holding on for dear life. It was a scene straight from a Hollywood movie script. We had onlookers but we didn't care. We had an amazing time in Costa Rica doing what we do best, eating, sunning and immersing ourselves in the culture of the city and/or country we are in. As we headed to our respective gates for the return trip home, I was missing him already.  My sister and her family are heading down to Florida to visit him later this month and he and I are already planning our next getaway for some time in the fall.
My dad is my rock. He is my ride or die. He is my biggest cheerleader, my loudest fan, a staunch supporter of everything I do. He has been there for me through thick and thin, through life's ups, downs, highs, lows and in-betweens. My dad is a cool dad, the dad girlfriends, platonic friends, boyfriends, spouses, ex-spouses and coworkers love to be around. He's my first love, my protector, my confidant, my light, my road dog, my culinary companion, and my pillar of strength. My dad is my everything. I'm so glad God chose him to be my father. He truly epitomizes what a father is and should be.
My father turned 81 years young last month. He's still active, vibrant and full of life. He's got a lot more living to do and we've got a lot more daddy-daughter-ing to do. Happy Father's Day to you, Richard Barnes. Your baby girl loves you, more!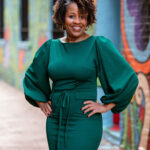 By: Danielle Barnes – @dannibsays (IG) @dannib413 (Twitter)
Danielle Barnes is a freelance writer based in Montclair, NJ. She earned a Bachelor of Arts degree in Public Relations from Wayne State University. Her superpower is her ability to captivate audiences with her words whether it's in person or on paper. Danielle enjoys devouring a good book, volunteering for causes she's passionate about, staying active, and traveling the globe to see the world in all its glory.