Oct 19, 2022
A Conversation with Marathoner Janice Character: A Journey through Doubt, Determination and Discovery – Part II
Janice's run journey started at age 48. Running created a space for Janice that she didn't know she needed. It turned her worrying nature into a warrior spirit, often transformed her doubt into determination and helped unblur her vision for herself and her life.
How did you decide to run the Abbott World Marathon Majors (Tokyo, Boston, London, Berlin, Chicago, New York)? "Well, I was going to run one marathon, and I was going to be done. But Jiles' (her husband) bestfriend's wife is a runner and asked me to do the Chicago Marathon with her." And, in true Janice fashion, she said, "I'm not doing that. I'm one and done." But as we all know about Janice by now, we know what came next—challenge accepted.
"So, we ran Chicago, and we had a blast. Chicago is the run. It was really fun. It was a diverse, cultural experience and a great way to see the city on foot and up close. After we did Chicago, she asked me if I'd heard of the Abbott World Marathon Majors? Again, I said, I'm not doing that. But she convinced me to do Berlin, a placed I've always wanted to visit, and after that I was committed to doing all six. Still, I thought I would never do Boston. And I didn't want to be a failure. I didn't want to complete five and never get into Boston."
But she did do Boston, in April 2022, and will gain her sixth and final star—and the coveted Six Star Medal—in March 2023 at the Tokyo Marathon.
So, tell us about this journey. You're about to do your sixth and final race. What does this mean to you? "It's amazing because I never grew up an athlete. I grew up an overweight child. I never thought I could actually do it. But, I like a challenge, and when I found out that less than 1% of the world has completed it, I said, I can do this. I want to do this. That's how I decided to do it. And I love the medals! I run for bling as you can see. I thought it would be so interesting to do it, plus I love to travel. So, running, traveling and being a part of an elite group of runners who've done this became a real goal of mine. It was a vision that I set for myself."
Janice has completed more than 100 races.
What's your training philosophy? "It has to be fun. It can't be stressful. I have enough stress in my life. I don't want to get to the point where running becomes a chore, a job. I never want that to happen. I'm very focused with my work, I'm very organized and I set goals for my life. I don't want running to become that. I just want to have fun and enjoy people. That's what running is to me."
What advice would you give to a runner that's looking to run their first marathon or first race or is having anxiety about their next one? "I would just say you can do it. Get a plan, and stick to the plan. Make sure you do your runs, spend time on your feet. Also, prioritize proper nutrition. You've got to fuel your body. Figure out what works for you during your training and use the same regimen during your race. Don't try anything new—including food, hydration, bras, shoes, etc. on race day. You have to know how things fit and where they rub. And be wary of all the products at the race expos. Don't buy something and take it for the first time during the race, without knowing how it will affect your body and digestive tract."
 How did you discover BGR!? "When I decided I wanted to do my first half marathon, I started training with another local run club and met former Houston Ambassador Terry Smith. She told me about Black Girls RUN!, and I started running with her and the group. The women were so amazing and so positive. I was like I found my tribe. We traveled to races together, bonded and got to know each other better. We could talk about anything. I would tell them things that I wouldn't dare tell anyone else, things that I didn't even tell my family. When your family sees you, they think you have it all together. If you're not feeling it that day, they will deny your feelings. People expect you to be good because everything looks good on the outside or on the surface. They see you have this great life, with all these great things. I like stuff, and I have a lot of stuff, but at the end of the day, it's just stuff. For a long time, I thought I couldn't tell anyone that my life wasn't perfect and that I too suffer from anxiety. In BGR!, I can just be Janice, and that's another thing that I love about this group.
Janice is such an inspiration to so many of us runners. So much so, she's emboldened several of us to embark on our own Abbott World Marathon Majors journey. Janice is a true testament that we all should strive to live a life by design. What is your vision for the best version of you?
Janice Character is a successful real estate agent who resides in Houston, Texas, with her husband Jiles and fur baby Joi. Follow Janice on Instagram at https://www.instagram.com/arealcharacter/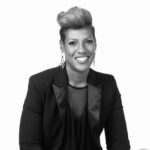 By: Joy Harrell @joyrunsrealestate
Joy Harrell is a licensed real estate agent and co-owner of The Sift Sisters bakery based in Houston, Texas. She is a native Houstonian and graduate of the University of Houston—go Coogs! When she is not helping people buy, sell or invest in real estate, she can be found hanging or traveling with her hubby, running or biking the streets and trails in and around Houston, mentoring girls or testing new food and cocktail recipes.